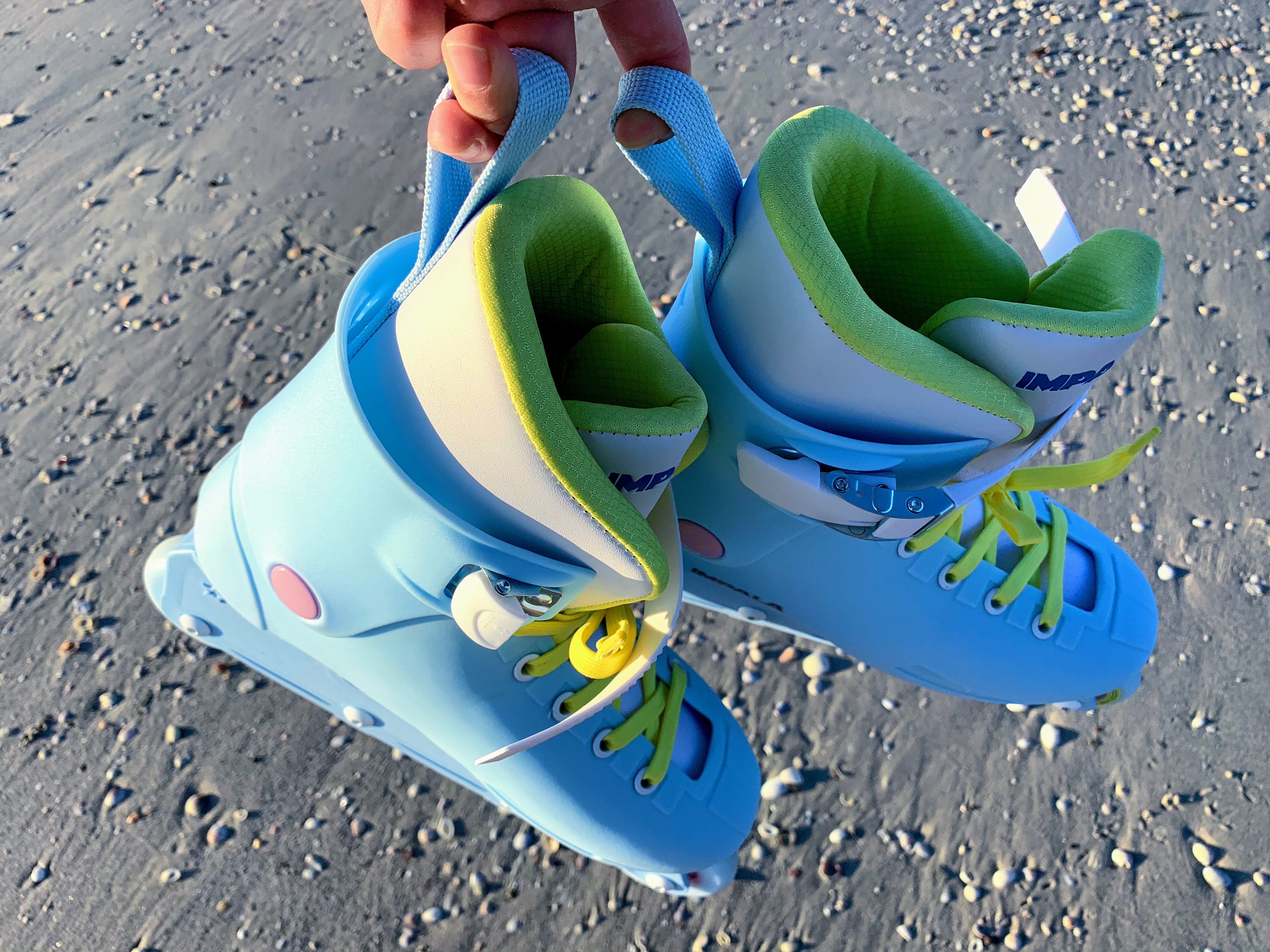 Lacing up my pastel blue rollerblades is like slipping into a sparkly 70s daydream. The sunlight is simmering brown shoulders and thighs are the size of slick logs, pushing hard and sweating to propel yourself along the Santa Monica boardwalk. Ice cream drips, men sip on their summer shandys and finger their frayed beach towels. "It's a perfect day for bananafish," says J.D. Salinger but you skate away from the tragedy and gaze ahead. Today is about gliding through warm air and feeling the freedom - the high - of blading in Impala gear.
Impala Skates is an Australian roller skating, inline blades and skateboard manufacturer that hearkens back to the glam skate culture of the 70s, 80s and 90s. Pastel colors and tattoos reign supreme, and girls perform impossible tricks in flared jeans and crop tops. Rollerblades are named "Fairy Floss" and protective gear is decked out in tie dye and chunky stars. It's a romanticized version of skating, but the aesthetic totally works - my own history with rollerblading has been fraught and nerve-wracking, but I feel like a San Francisco hippy whenever I put my blades on.
Before I got my Impala Lightspeed inlines (the sky blue/yellow design), I was learning to blade on a pair of too-tight Roce blades that pinched my toes and smelled of middle school. I was wobbly and prone to falling, which messed with my shins and psyche. Rollerblading has always been a double entendre of fear and freedom to me - the gear inhibited my movement, but the times I was able to glide without care, it was the most exhilarating feeling. Impala rollerblades changed the game for me and not just on an aesthetic level; they gave me confidence, especially when creepy old men would make comments at me, saying "Wow! You better be careful young lady" and the like. Read on for my honest review of Impala inline rollerblades - I've gone on five separate blading adventures with them (around 4 hours in total), so I'm familiar with their curves and kinks:
Sizing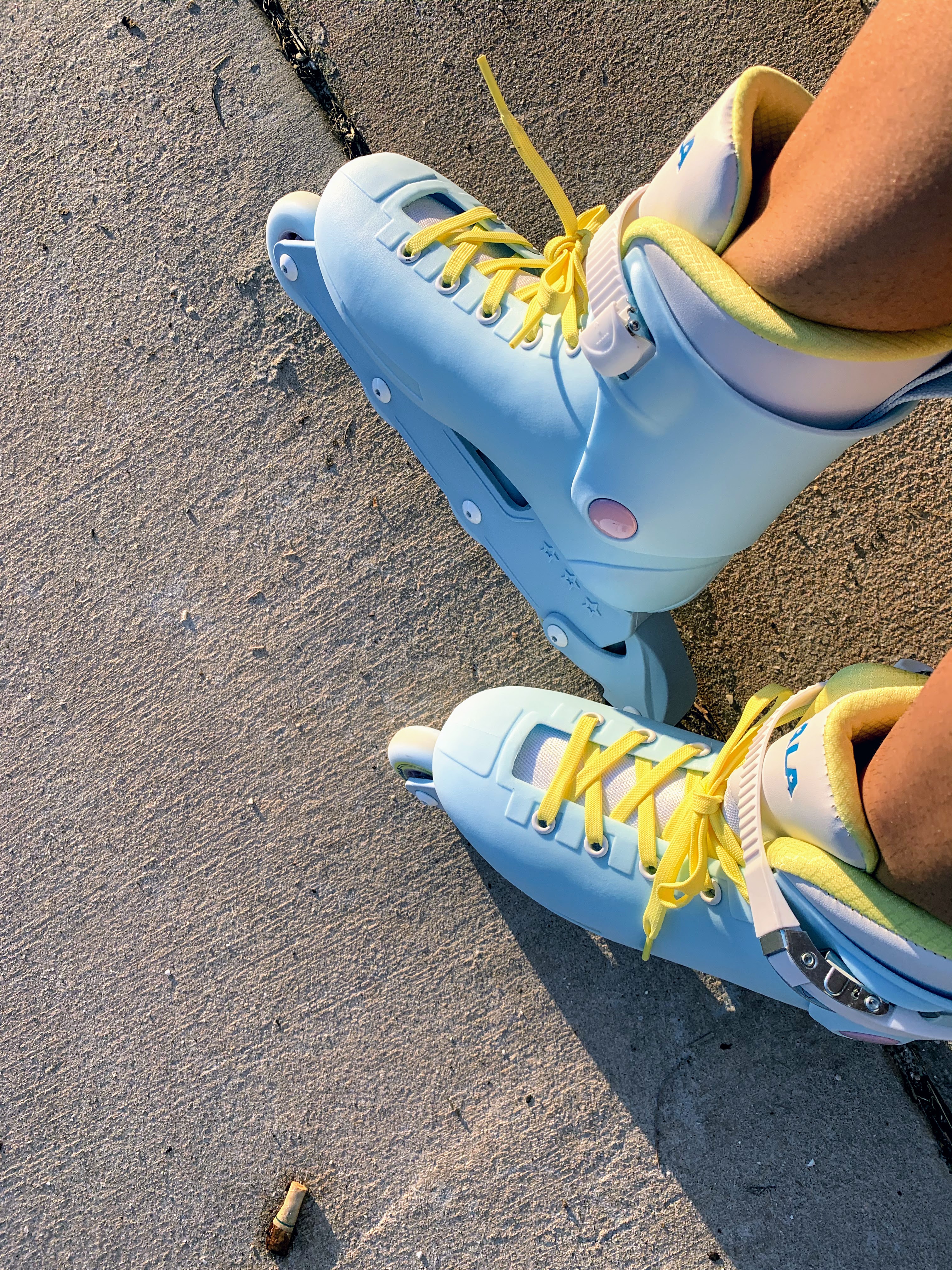 If you're an in-between shoe size (i.e. a 6.5 like me) the Impala website recommends ordering a size up. Rollerblading sizing is often suspect because different brands have wonky size charts, but in this case, Impala was spot on. I ordered a US size 7, and my boot fit comfortably on my foot - the toes grazed the padded top, which was tight-fitting but not an agonizing pinch (like my size 6 Roce skates). The width of the foot also matters; my foot is narrow and tapers into a skinny ankle, so there was a modest gap between my shins and the boot liner. To compensate for this, I had to tighten the strap on the skates so the ankle was secure and set in place - if left to rock n' roll inside the skate, your shins will rapidly get splints and you'll be limping in your pretty blades.
A note for n00b rollerbladers: it's okay if your blades look huge and more suited to the grimy soles of a giant! I was also surprised when I got my first pair of skates; it's literally a rolling contraption strapped to your feet, so don't be intimidated by the girth and sturdiness.
Shape & Design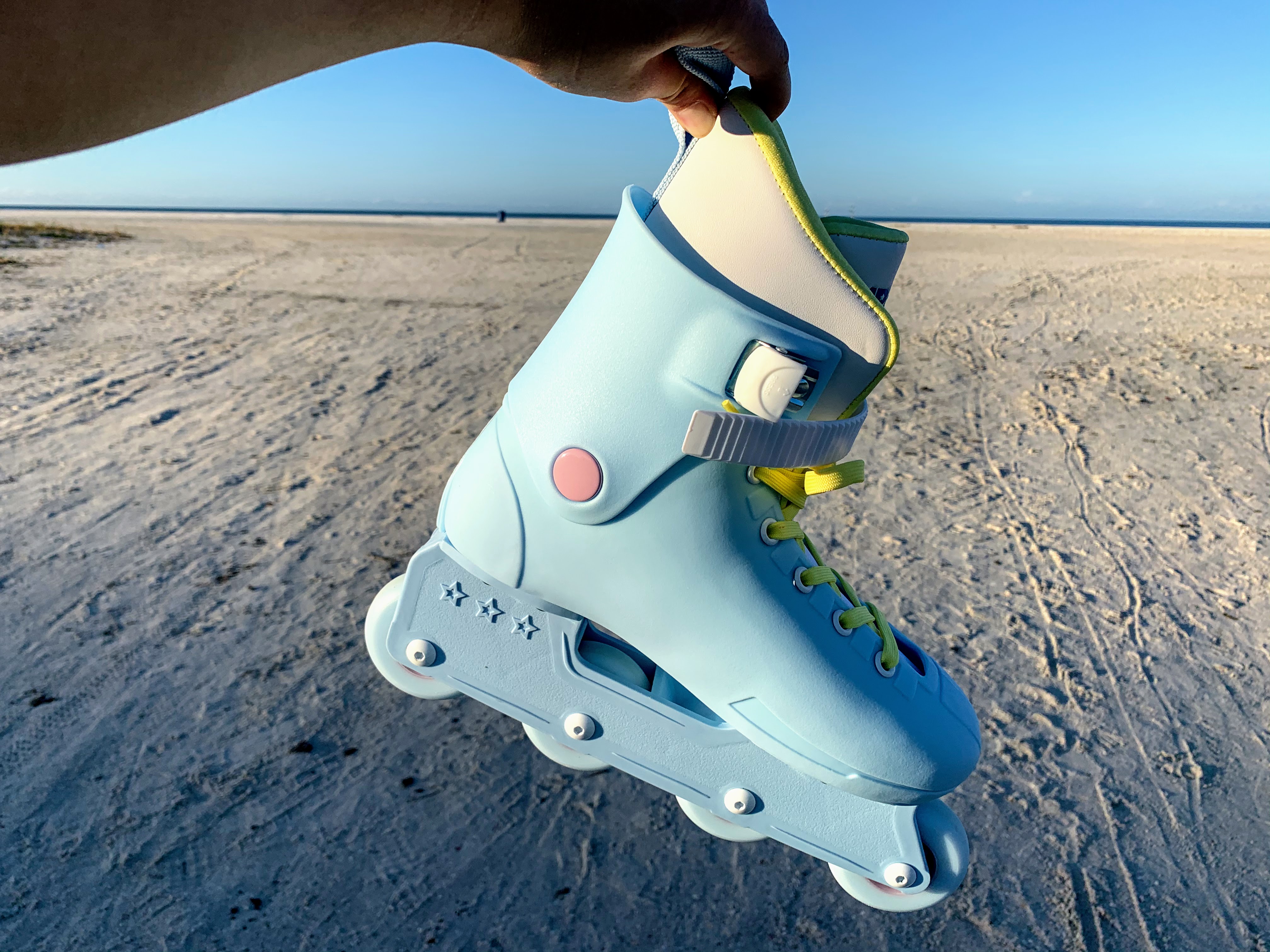 This skating boot is a tank disguised in tulle and glitter. The outer shell is composed of hard plastic but wraps around your foot in an elegant, delicate way. The padded liners on the lip and sole invite your feet to relax and not be so uptight when blading - the word "art deco" comes to mind in the curvilinear design and rounded edges. Impala's design and color palette is what makes their products so iconic, and my light blue & mellow yellow skates are no exception. I'm gliding on clean lines and marshmallows when I wear them and feel feminine (as opposed to most other rollerblade brands, which produce clunky, masculine boots).
These rollerblades are also heavy, durable and sturdy. This newfound sense of balance makes rollerblading 10x easier because wobbling/instability is minimized and shock is readily absorbed by the padding and plastic shell. When I bladed in these for the first time, I instantly recognized the shift in weight and balance - I felt grounded and unintimidated by rocks and seedlings. My rollerblading leveled up and I was doing the moonwalk on Treasure Island beach, my first obstacle course in these new skates. The extra weight didn't impede my blading or make it harder to maneuver - on the contrary, the combination of balance, style and confident thighs made me a rollerblading machine.
For the gearheads out there, the wheels are 70mm 80a durometer Polypropylene core wheels and the rubber sealed bearings are ABEC 7 precision bearings. In layman's terms, this means the Impala blades have "soft wheels" and aren't the scary-looking disks that speed skaters wear. Did I mention the blades are also PETA-approved and vegan? You can feel like Jane Goodall and Kim Deal at the same time, rubbing that glitter onto your brows with a smirk.
Blading Feel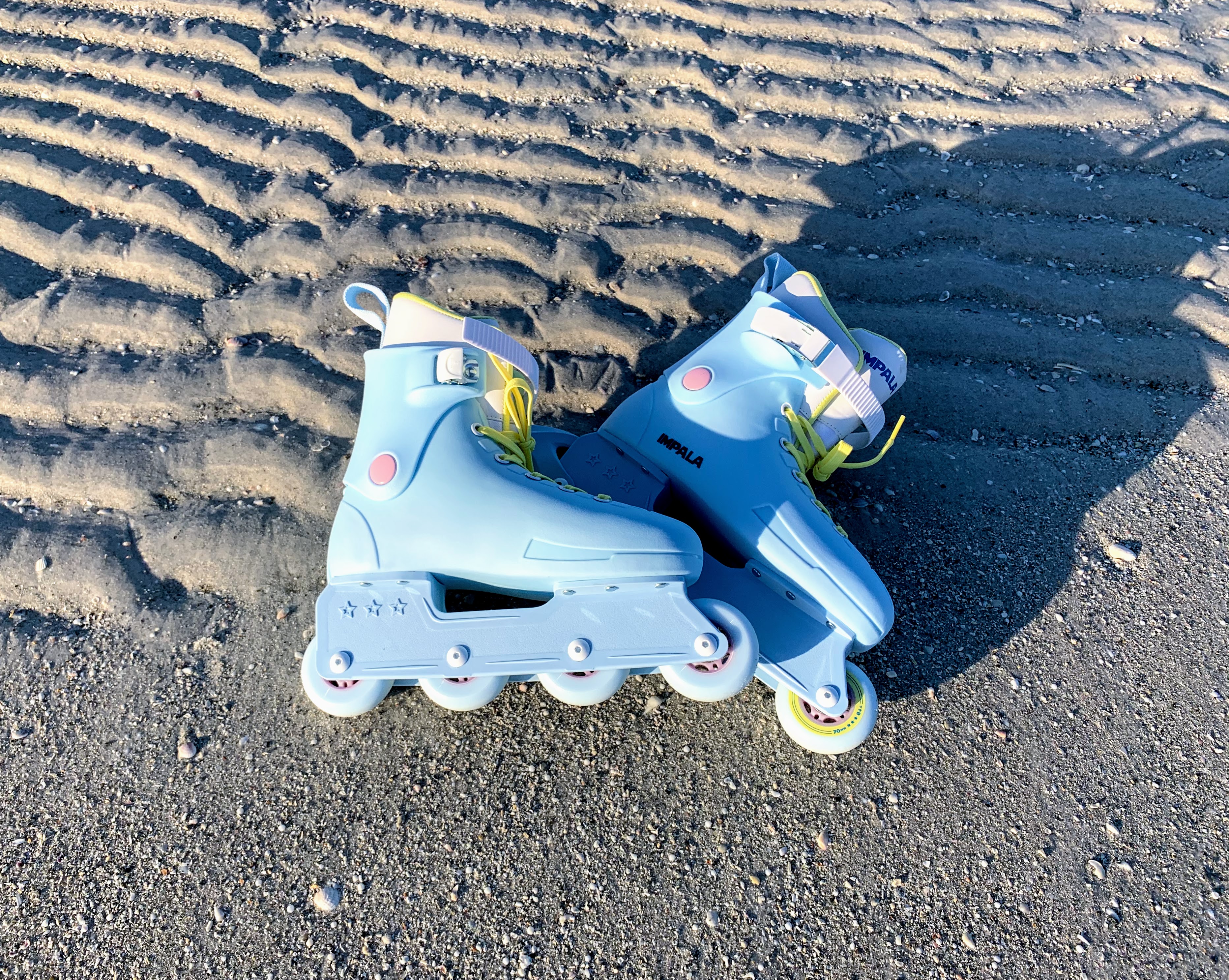 I alluded to this above, but these rollerblades are a casual skaters wet dream. I wouldn't recommend speed skating or other fancy wear & tear forms (i.e. slalom, aggressive), but a leisurely blade at the beach or trail is perfect. I tried out my Impalas on a concrete beach boardwalk and a tarmac parking lot at a local park. Each terrain had its unique debris: sand and washed up sea pens from the tropical storm and oak tree seed pods, smashed and smearing orange on the pavement.
Overall, these blades deliver a smooth feel and performance - even when I was rolling over sand, cigarettes and cracks in the road, I didn't fall or otherwise lose my balance greatly.1 Turbulence was absorbed by the padded soles and my legs, so I felt stable and cool as a retro cucumber. Surprisingly, I found blading on uneven pavement easier than the sandy concrete at the beach - maybe it was the creepy leathery old men (again), but the rivets in the boardwalk threw me off a little.
I have yet to blade on a totally smooth surface (a girl can dream of the Shoreline Way in Long Beach, CA), but I'm excited for the zero friction and maximum speed. Blading on smooth surfaces also decreases the wearing of your wheels, which can get expensive in the long run. Replacing a complete set of Impala wheels currently costs $80, so you'll want to maintain your wheels as long as possible.
Et cetera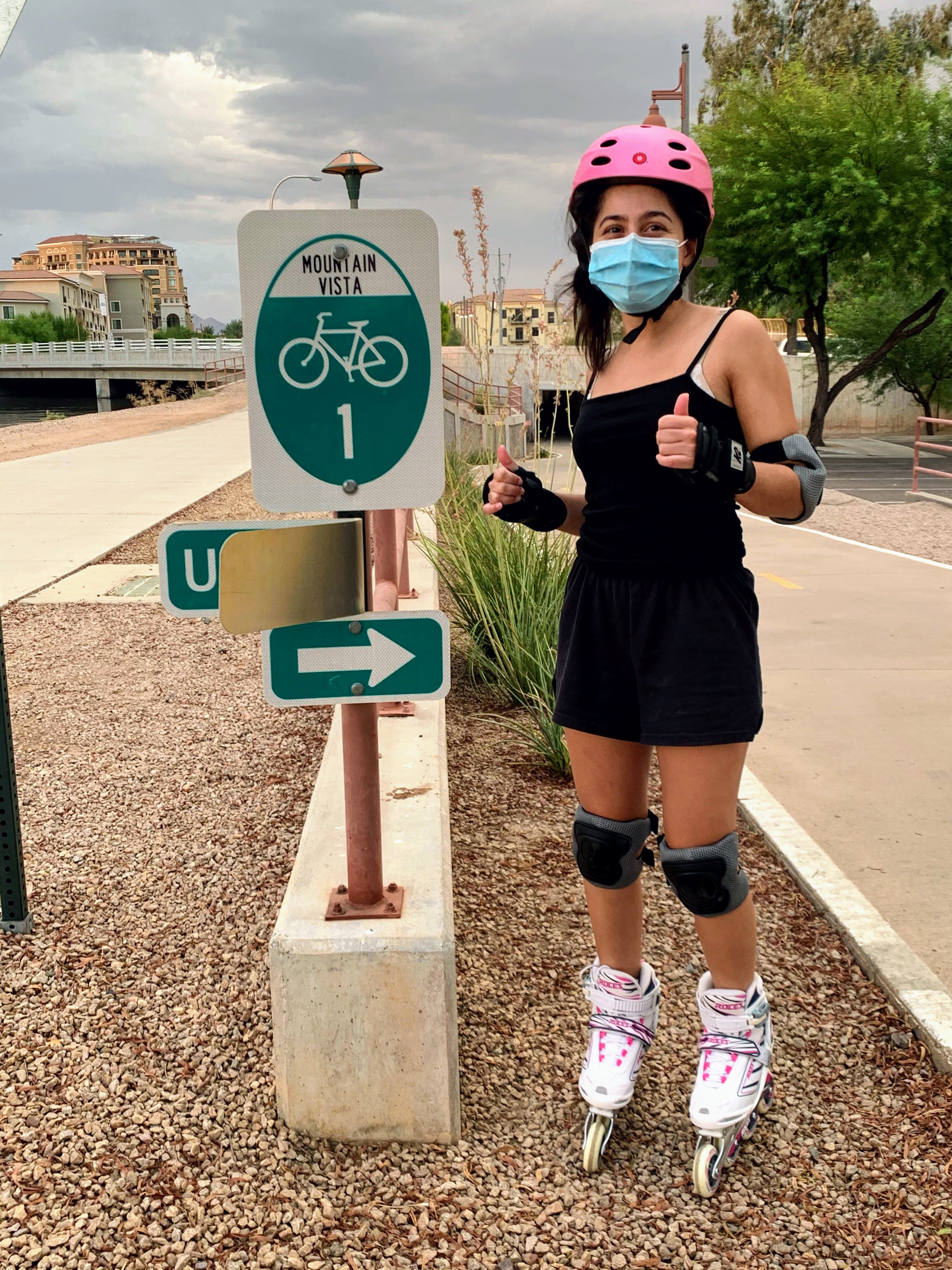 It's not all pixie sticks and roses though - the one downside of the Impala blades for me was the uptick in shin pain and possible shin splints. I think it was a confluence of factors - my longer rollerblading times, the extra room between my ankle/shin and boot liner and my form. In Scottsdale, I could only blade for 30 minutes and even then, my blading was mousy and inconsistent. Once I slid into the Impalas and felt the methamphetamine rush of well-fitting skates, I could skate for an hour or more - but it's no secret that rollerblading is strenuous on the muscles and joints, even for a 23 year old. The shin pain declines when I stretch and tighten the ankle strap, but it could also be a flawed design in the boot (which I think is unlikely, considering I never had formal rollerblading training and my form is sketchy).
Also, installing the brake (which comes disassembled in the box) is hard af if you're not technically inclined. Even after reading the illustrated Impala guide and watching countless YouTube videos, the foot brake was still eluding me. My dad eventually figured it out by using an allen wrench and the Impala skate tool to twist the nut and axle bolt off simultaneously. Once the wheel is removed, then you can align the brake with the skate grooves and put the axle/chassis back together. If all of this sounds like gibberish, then watch my YouTube below for a visual demo of installing the break.
#WurstTip: Don't throw away the Inline Skates manual that comes with the rollerblades! It includes helpful tips for learning to blade for beginners and instructions on how to machine wash the insoles and align rockered wheels.
---
I've come a long way from crying on a Long Beach sidewalk to striding confidently at my local park, rolling over seed pods like it's nothing. Impala blades gave me the stability I needed to stop being so afraid of falling, looking silly or failing. Because all of that negativity doesn't matter - every time I slip into the boots, I am conquering my fears and reminded of that California zeitgeist that induced me to buy blades in the first place. Joni Mitchell sang it best:
But my heart cried out for you, California Oh California, I'm coming home Oh make me feel good rock'n roll band I'm your biggest fan California, I'm coming home
Join the #ImpalaSkateSquad and pretend you're on your way to Woodstock, eyes glazed and hair free.
---
Don't get me wrong - I fall all the time. My stumbles are usually due to embarrassment at spectators and me trying to adjust my butt and back posture while I'm actively skating. ↩︎