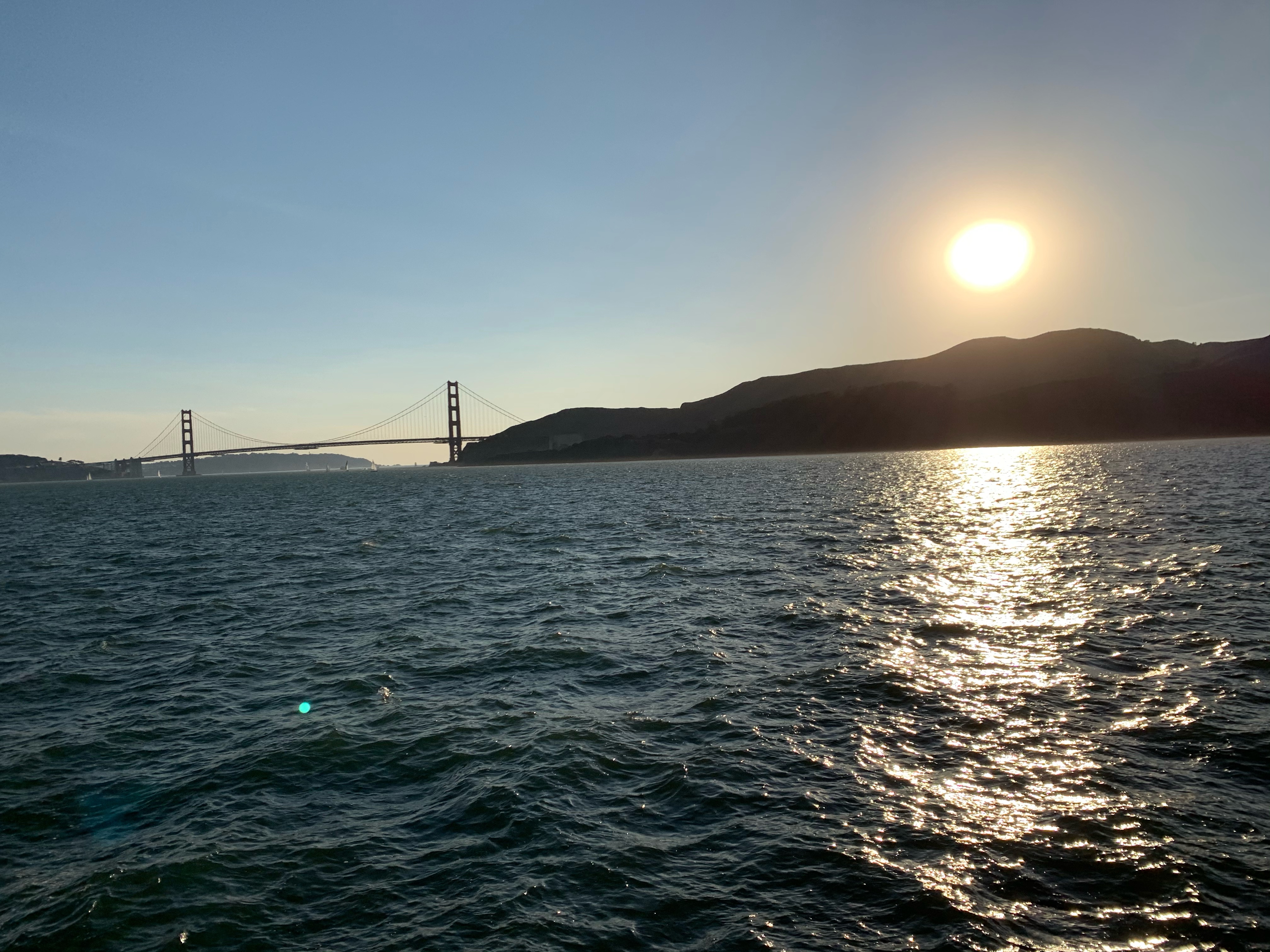 It's rare to have an authentic, enjoyable day from breakfast until midnight snack - something always pops up to confuse or tense the hours between opening your eyelids and shutting the lights off. But on October 16, 2020, I took my first official vacation day from the corporate wheel and lazed around the Golden City until sunset. It was a halcyon Friday that began with a frothy cappuccino and ended with a nighttime park crawl. I played hooky while getting paid - what a concept! Ideally, all my waking hours would be allocated between nature outings, biking, tasting delicious comida and writing with a coffee or hazy buzz in my head - San Francisco served me that flawless day (cue Lou Reed) and became radiant, so warm by the Bay. I couldn't have asked for a more worthwhile 16 hours away from my laptop and incessant accounting pings; viviendo vibrantemente en El Mission!
Nikhil and I woke up late and relished our messy bedhead and the Latin music wafting in from the neighbors. He also took time off so we could explore SF together, no occupational stress distracting us from the city. The wee hours of the morning were spent drifting between sleep stages and cuddling (schnuggle buggle). Sleeping in San Francisco is a level up from normal sleep - the air cools down to a gentle 60°, the blankets are thick and buttery and the blackout curtains cancel out the outside world. My mind closes like a lid and doesn't put up a fight; even if I only get seven hours of sleep, I'm still an energizer bunny on mushroom coffee. After finally dragging ourselves out of sleep, we walked to Precita Park cafe, a culinary icon in the South Mission - dog owners parade their purebreds while holding hot coffee, their puffy jackets covering cut torsos. The stroller moms are manicured and the old tech bros rush past, probably dreaming about their glory days of coding Dropbox. The atmosphere around Precita is idyllic and nearly always sunny - with a playground and park (even the toddlers are somehow wearing masks), it's a magnet for family activity.
Precita Park Cafe (which is a sister to the Dolores Park, Paradise Park, Duboce Park cafes) has a killer brunch menu, homemade gelato, overpriced juices and vegan pastries. It's the quintessential "tech on the weekend" spot, but the food is still dank and the vibes are wholesome, considering how SF has seedy areas like the Tenderloin, SOMA and the Meth park in North Mission. I ordered a brimming egg sandwich and cappuccino and devoured the two by the outdoor trash can. Since the pandemic hit, I've been home cooking like a regular Pioneer Woman and experimenting with curry, jam and chilis that are tastier than eating out. But this brunch and that sublime brioche bun were the ticket.
After eating our fill and laughing at the loafy dogs in the park (usually an afternoon ritual of ours), we hopped on a public bus at 24th and Mission Street and headed towards the Gate. 🌻 The public transportation in SF isn't as smelly as everyone thinks; the buses were technically free and had ample room. The slatted windows were pushed wide open and the breeze played with my flyaway hairs. I love getting around town without having to do anything except watch scenery glide by - and it was gorgeous as well, more of a "scenic view" tour bus than a local transit. We passed a loud outdoor market on Mission Street, the trailhead for Four Peaks hike, and the looming Mount Davidson. I didn't know that there was a colloquial "The Seven Hills of San Francisco," and they include Telegraph Hill, Nob Hill, Russian Hill, Rincon Hill, Twin Peaks, Mount Davidson and Lone Mountain. As if I needed any more reasons to geek out in this city.🙃
We got off the 49 bus and walked to our second mode of transportation: Blazing Saddles. It's not a store dedicated to cheesy California westerns, nor is it a custom horse saddle place for the landed gentry - it's a rental place to bike across the Golden Gate Bridge! I used to feel fearless and wired while biking on the Hawthorne Trail (shout out to my mint green road bike, Luna), so I was excited to be back on two wheels again. Bikes acquired and helmets strapped on, Nikhil and I were about to bike up Lombard Street but thought better of it; our thighs were tender and not used to long distances and Lombard St. has "eight [steep] hairpin turns." So we wheeled around towards our copper sweetheart and were off, riding in the most beautiful weather possible.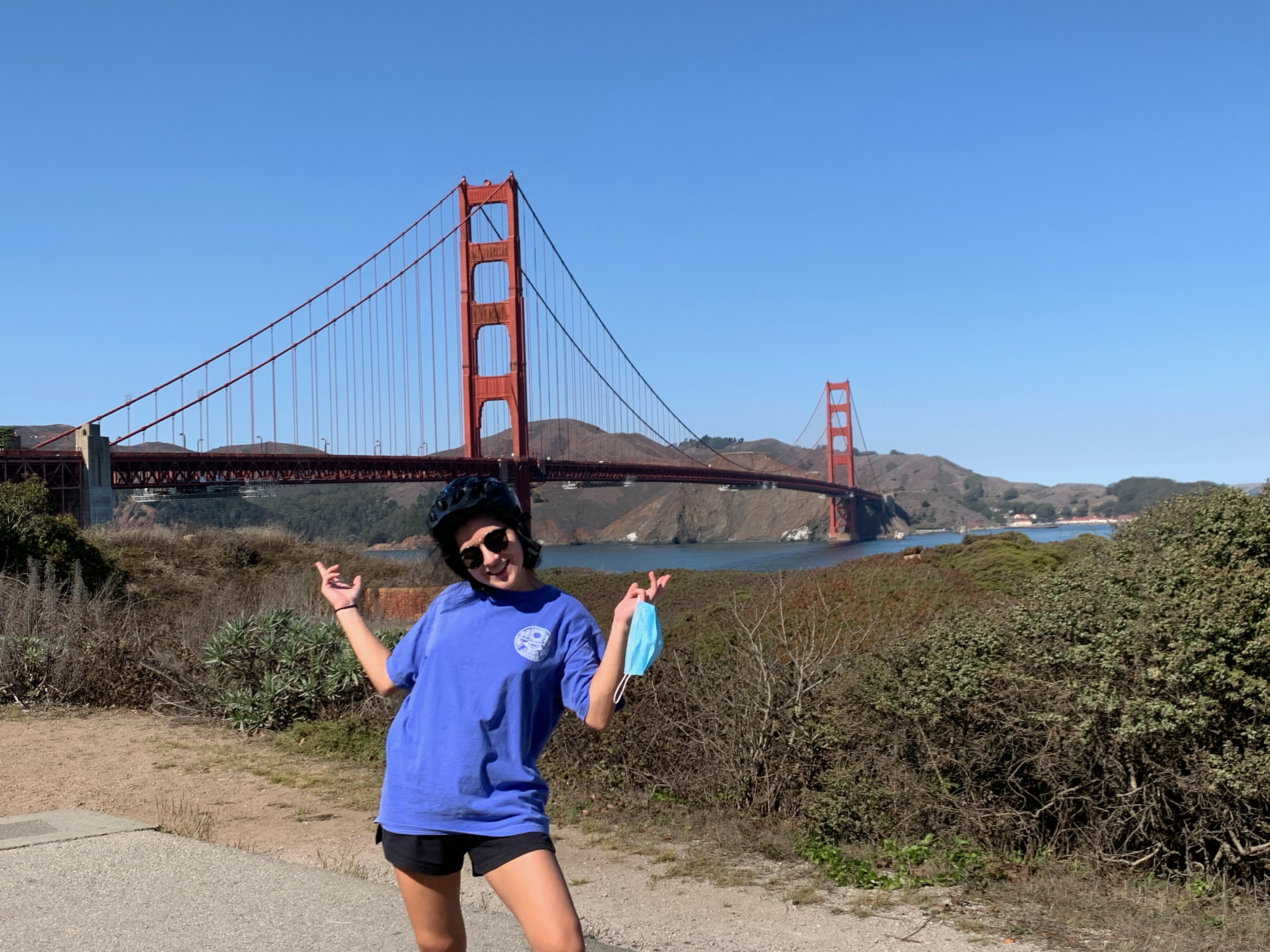 My memory is in a happy place when it thinks about this bike ride - we saw wide, emerald lawns with adults playing frisbee and practicing yoga asanas, and there were skateboarders cruising past us while blasting Sublime. The Marin Headlands unfolded with all of its wildlife and greenery, and I was reminded of the cyprus tree marshes on the Hawthorne Trail. The wind was (thankfully) silent and only the sunlight pierced our skin, creating a heater on my arms and legs. I was getting tanner by the second and felt my spirit get drawn out of my physical body and float near the top of the Gate, which was sharply coming into view. As Americans living in the 21st century, we are familiar with the iconic pictures of the Golden Gate Bridge and the sparkling water and sailboats underneath it. I've seen this image a thousand times, but seeing it span before me in real time - as my legs are spinning furiously and my sunglasses bathe everything in jewel tones - is something else. The perspective plays with your eyes and forms this steel mirage. If life is indeed a simulation, the programmers did one hell of a job with the GGB; it appears imposing yet narrow, glimmering and totally matte.
The normal bike path to the bridge was closed, so we had to take a mini detour by the visitor's center. Nikhil and I were here last July, and I recall it being chilly and impossibly windy - my H&M dress was flying everywhere and exposing my cheeks to the Bay. This time, it was a pit stop to rest our legs and share a mint coffee Clif Bar (which tasted like a caffeinated Girl Scout cookie). We needed all the R&R we could get - the pathway to the bridge is steep, winding and tantalizing. The Bridge peaks in and out of view and creates longing and pain within you. My leg muscles and joints were screaming, and we even had to take a break halfway up the hill. Not many bikers were on the road with us; biking the GGB has a reputation for being hellish, and all the rumours were true. 😌
–insert another pause so Macc & Thot could take nerdy pictures–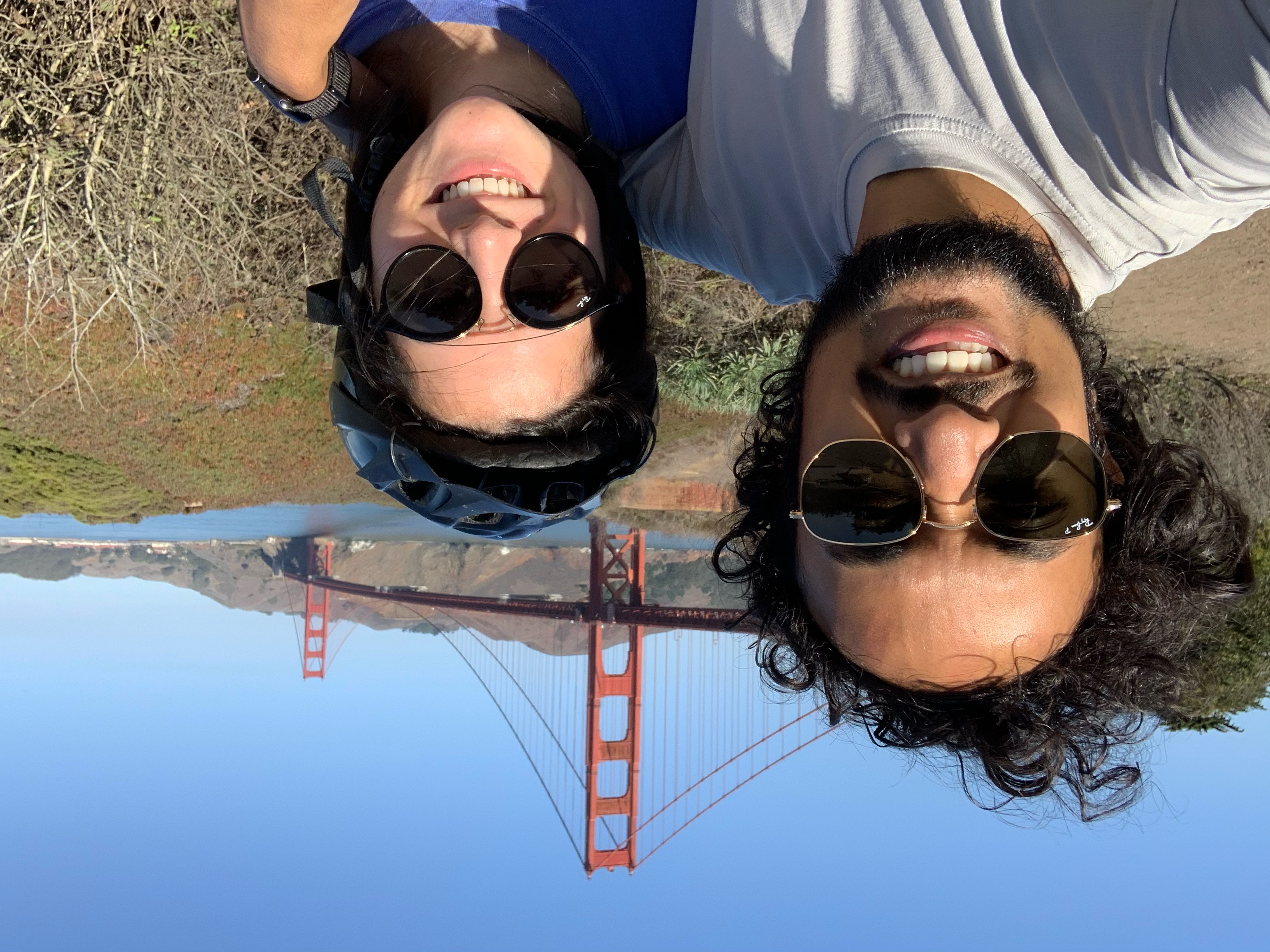 But momma, we made it! After the initial incline, the bridge straightens out and becomes flat(ish). And I thought biking along the Bay was exhilarating before - going across the bridge, occasionally dodging tourists and fellow bikers, was a San Francisco high. A smile was etched into my skin for the whole 1.7 miles, and I was spinning my gaze everywhere, between the trusses and the endless Bay and the white sailboats. I was dwarfed by collective humanity and the power of nature, but I still felt invincible. It was the happiest stretch of biking I've ever done (the Hawthorne Trail is a hot second, but it doesn't have an inspiring Bay below it).
"San Francisco is 49 square miles surrounded by reality." – Paul Kanter
The ride was over in a heartbeat, but I know this impression of salty paradise will last a long time. The bike path gradually descended onto the highways leading into Sausalito. We glided downhill next to fancy Tesla's and Fiats, shouting nonsense back and forth to one another ("whooeee!," "yip yip!"). It was the kind of speed that drops your stomach and feels like a feather; that's how much gravity is calling you into the valley. A whirlwind later and we parked our bikes by the ferry that goes from Sausalito back to San Francisco. Tourists, mostly on Blazing Saddles bikes, milled around us and looked similarly happy/winded. Sausalito is the city for 1) retired "old money" Californians or 2) 30 year-old startup founders who sold out to Microsoft, Google or Facebook. The atmosphere of sunlight, briny seas and pastel umbrellas is reminiscent of Lake Como in Italy or Lake Lucerne in Switzerland. It's hard to imagine that humans live in this utopia, but wealth brings a brighter reality to those who have it (at least on the surface).
The sugary Clif Bar had long since been converted from calories to energy. We hunted down an ice cream shop and shared a Cookie Monster cup inside the eave of an apartment building. The dessert stained my mouth a fake blue, but the sugar rush of chocolate chips and cookie dough was much needed. My sweet tooth is vociferous and not something to be taken lightly! Nikhil has a savory tongue and always clucks playfully when I reach for the next cookie or brownie bite (but at least I don't have a kettle chip addiction, ahem). We had to catch the Blue & Gold Ferry back to Fisherman's Wharf at 5 o'clock, so that left two hours to explore the saucy city. So we did what we normally do with time to savor - we traversed the neighborhood hills and parks by foot, looking and absorbing everything we saw. People might perceive us as too adventurous and puzzling, but we're really just two elves who are curious about all things.
Conversation flowed and flowered, like it always does when we're being ourselves. Nikhil and I have a rocky history, but it's undeniable that our grooves fit like an Easter glove - we talk about spirituality, Julius Caesar's megalomaniacal traits, urban planning, cactus grooming, the Centennial Olympics and usually exchange a few "blehhs" and "yeeAAHHhhs" in between. We stumbled upon the Mary Ann Sears Park and played on the seesaw, swings and slides for a while. We were laughing and imagining how we would respond if someone asked, "So what did you do on your day off?"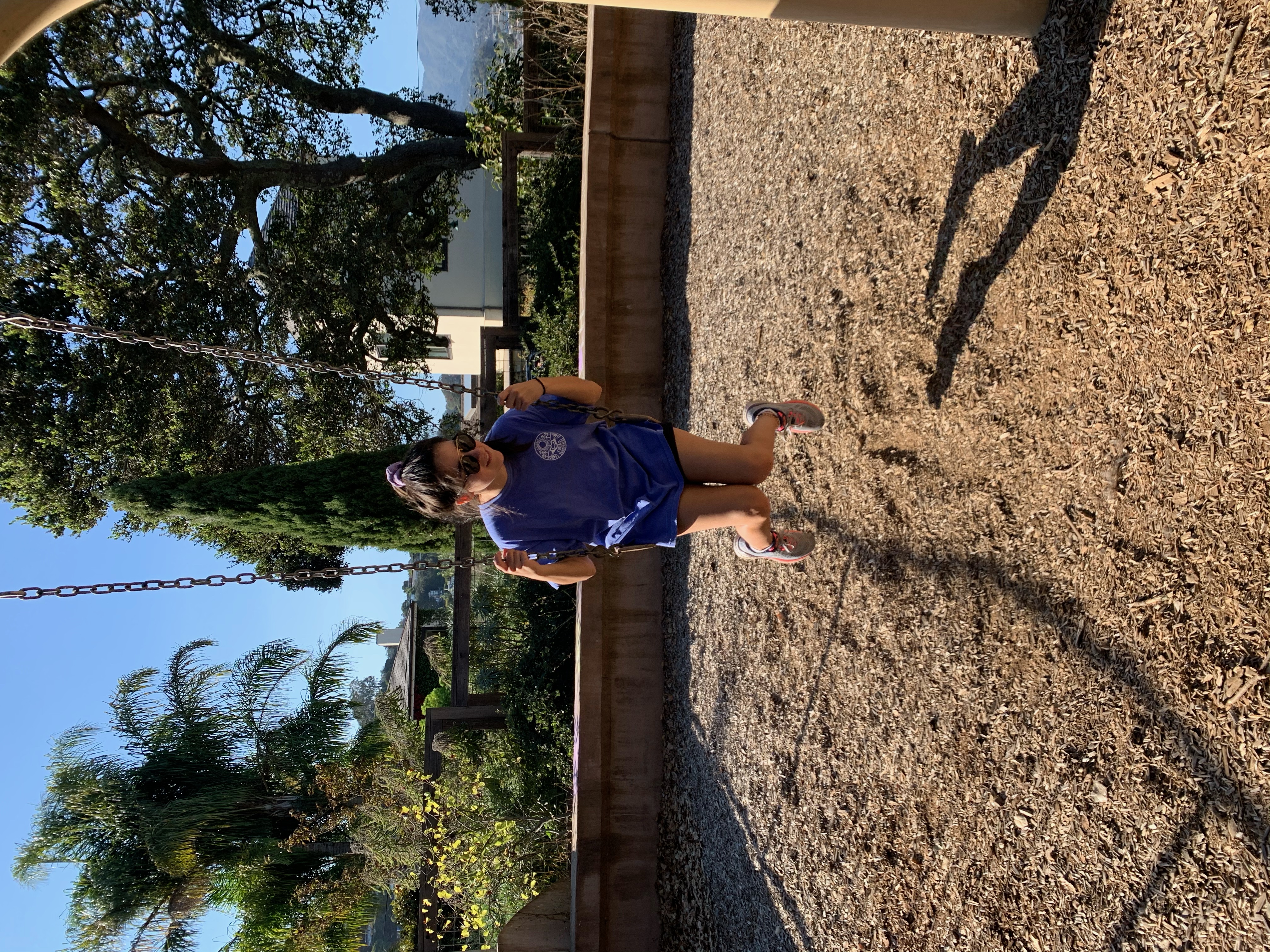 Letting go and being a child opposite a Sausalito Catholic church was random but also much needed. Not a single kid came into the park while we were there, so we basked in the sunlight. While I was swinging higher, I caught glimpses of the Bay and the SF skyline, another mirage at sea. I found this great quote from Frank Lloyd Wright:
"San Francisco is the only city I can think of that can survive all the things you people are doing to it and still look beautiful."
SF has its structural problems and negative stereotypes, but when viewed from a bird's eye perch, there is no denying how virginal and sparkling it is. I was overcome with happiness and hope for the future, despite my constant guilt/stress over problems from the past. Nikhil and I took a final breath out and left the playground, our earthly version of the Elysian Fields.
Nikhil's belly was causing a riot, so we went on the prowl for some delicious (and moderately-priced) food before the ferry left. Unexpectedly, we found a hole-in-the-wall Indian restaurant, Sartaj India Cafe, a few minutes walk from the pier. I didn't realize how hungry I was until I smelled the garam masala and hot dosas in oil. The cook asked Nikhil if he was Indian (why does no one ever ask me that?) and then recommended the best dish available: vegetarian thali. The dish was an array of veggie curries with pillowy basmati rice and buttery naan - and godlike chutney that melted all creamy and manna-like in my mouth. Oh divinity! We rounded off the meal with Indian biscuits (similar to English McVities) and practically licked the circular plate clean. The belly riot promptly called off the police.
With five minutes to go, we sluggishly rushed to our parked bikes and waited in line for the ferry. The sun was blazing over the foggy clouds and casting everything in copper tones. It was the breaking point between peak warmth, and the slow, steady creep of a golden chill. This was manifested perfectly in the ferry ride back. We were crossing the Bay, standing near the prow of the old vessel. Our matching Uniqlo jackets were zipped all the way up and our eyes - they were transfixed. The sun, a disco ball of mandarin and fuschia, was setting behind the Golden Gate Bridge, setting it on fire. It was the queen of all mirages, and I couldn't look away. Salt was stinging my nose and eyes, but I let the tears flow. The Bridge was a beacon of beauty and hope - Nikhil turned to face me and said, "I always forget how much I love San Francisco, until I see things like this." We were literally sailing off into the sunset, Nikhil's arms wrapped around my shivering chest. I was floating.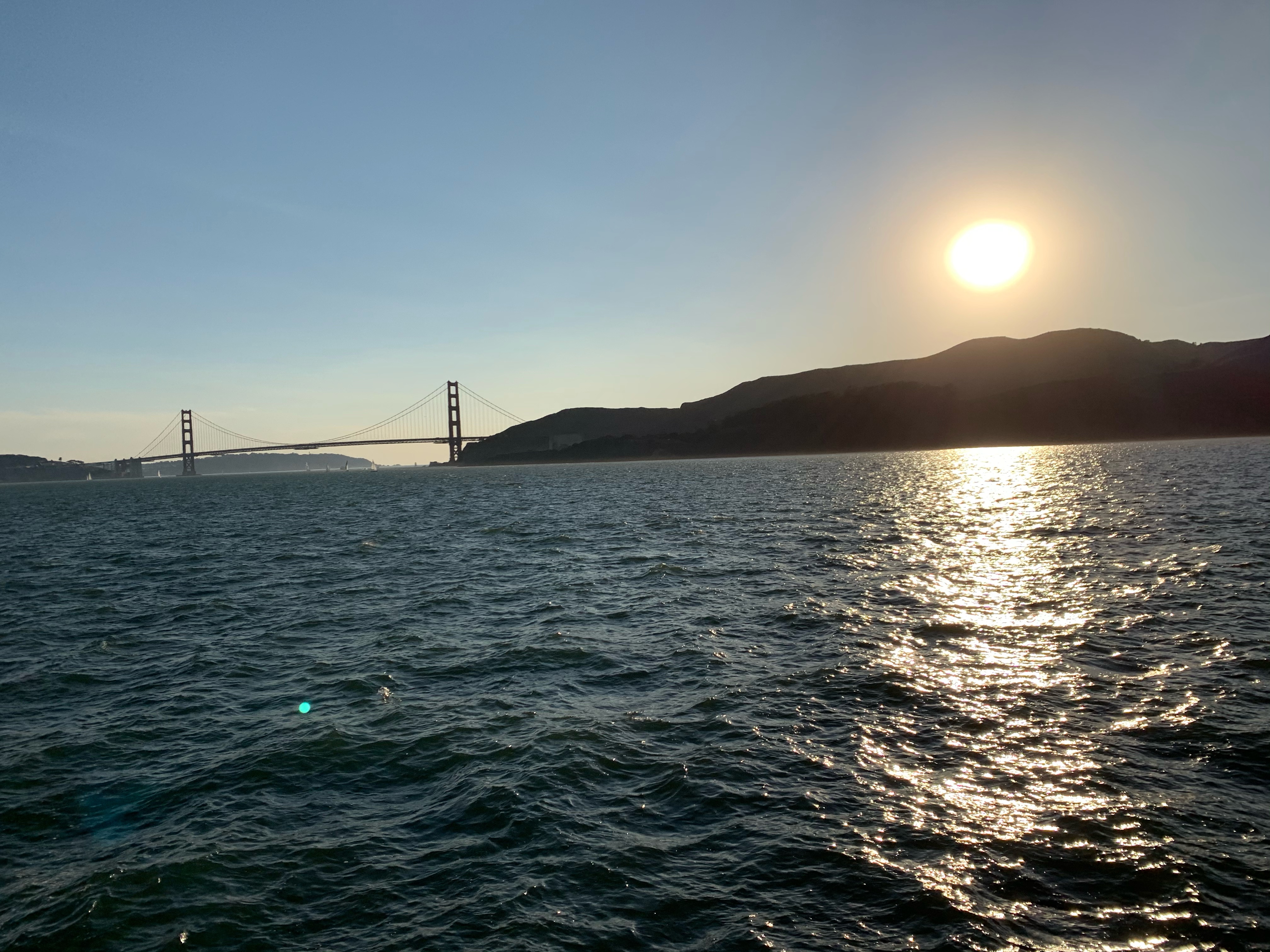 When we disembarked, I felt like an oiled character in The Embarkation of the Queen of Sheba by Claude Lorrain. The hues were delicious and all right - I could feel the wind burn and the pink nose tomorrow morning would bring. We grabbed our bikes from the tangled mass and rode around Fisherman's Wharf for a while, doing our best to avoid bougie stroller moms and haywire Lime Scooters. I simply didn't want to part with my (dorky) bike; it made me nostalgic for Luna and the muggy Hawthorne Trail days. But eventually we ditched the bikes at Blazing Saddles, caught a few buses home and found ourselves back in our Alabama Street apartment, nearly 8 hours from leaving it.
Hungover from leg day exhaustion and Sausalito curry, we became wiggly worms in bed again. But there was one thing left on our agenda: an evening stroll in Precita Park. 🌼 While in SF, we end nearly every (chaotic, mushy) day in that Park. The neighborhood puts us gently to sleep and we're able to decompress and talk about the day's events. That night, with hands rolled together and worn out sneakers on our feet, we spoke little but were satisfied. My first day off from the corporate machine was illuminating and a slide show of disparate things: scrambled eggs, biking across the GGB, blue tongues and children's playgrounds, all bookended by a sun salutation. To conclude this piece, here's my attempt at a click-worthy quote about San Francisco:
"San Francisco is smoke, she isn't real yet she slumbers in my every dream. I give up my work, my identity and historical self because she's the one. I need her waters and her sun; viviendo vibrantemente en El Mission!" – Mackenzie Patel