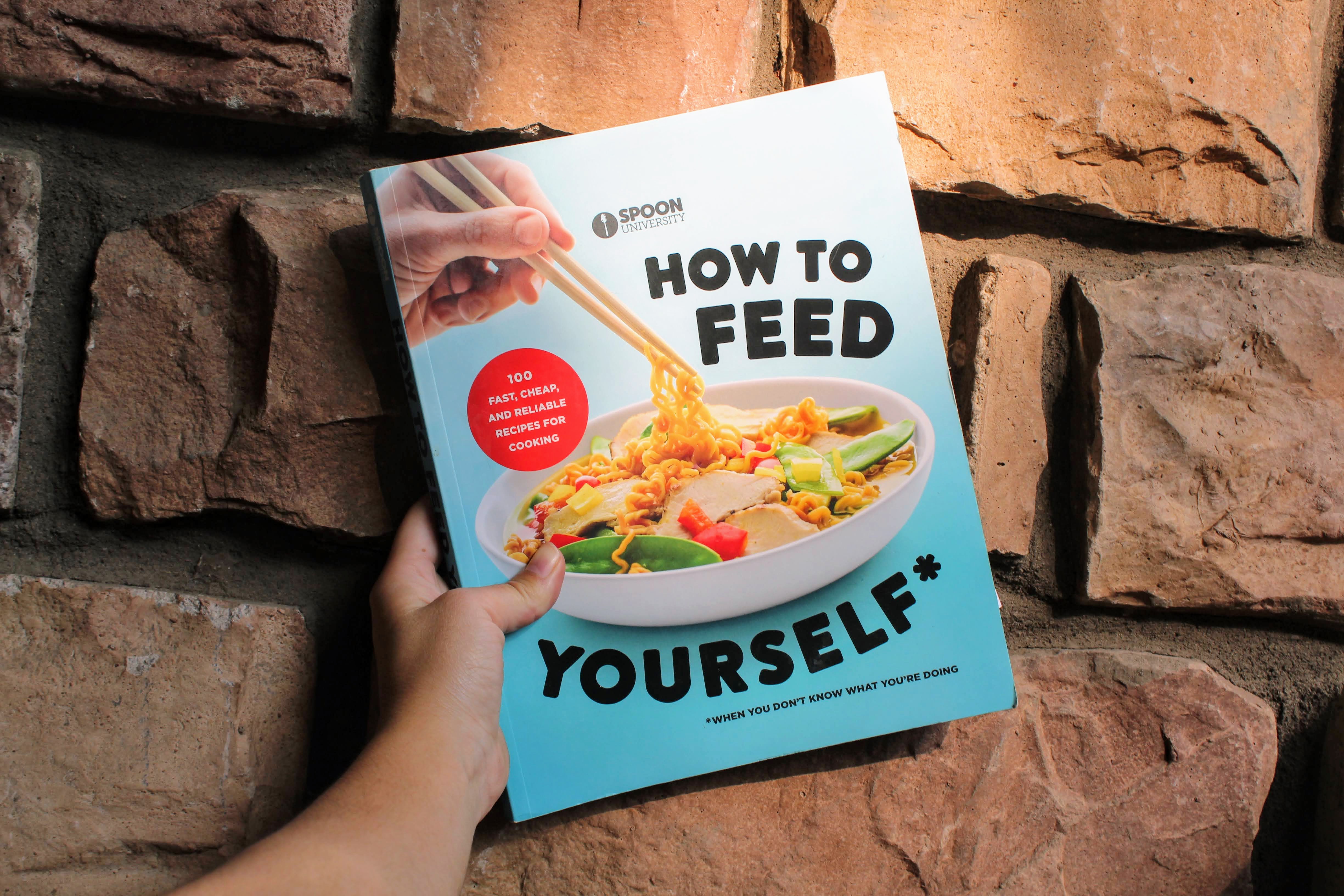 It's about fifteen years too late, but my childhood dream of becoming a chef is finally being realized - the twinkle is in my brown eye, my face is dusted in bleached flour and I toss the phrase "just eyeball it" around like it's my most beloved cliché. I may be an amateur (I still smoke up my kitchen when I get overzealous with salmon), but my skills have leveled up during quarantine. This gastronomic Renaissance owes its existence to one crucial work: " How to Feed Yourself (When You Don't Know What You're Doing)," the debut cookbook of food media startup Spoon University.
When the cookbook was first published in December of 2018, I got a free copy from the publisher and barely thumbed through it. The pictures were succulent and soaked, but I was in the college mentality of eating Pop-Tarts for main meals and subsisting on carnitas Chipotle in between. I was obsessed with writing about food, not actually cooking banana bread in my shoebox of a kitchen. Fast forward to a global pandemic and now I'm reading cookbooks like they're Haruki Murakami novels. Between that and nebulous "adulthood" starting, I'm finally comfortable with knives and ovens and interested in eating healthy, homemade garb. Below are my favorite recipes from the Spoon cookbook - while I've tried at least 15 of the recipes shown, these five are my hands down winners. If I can become a bonafide virus chef, anyone can. ✨
Minestrone Soup for Days
page 157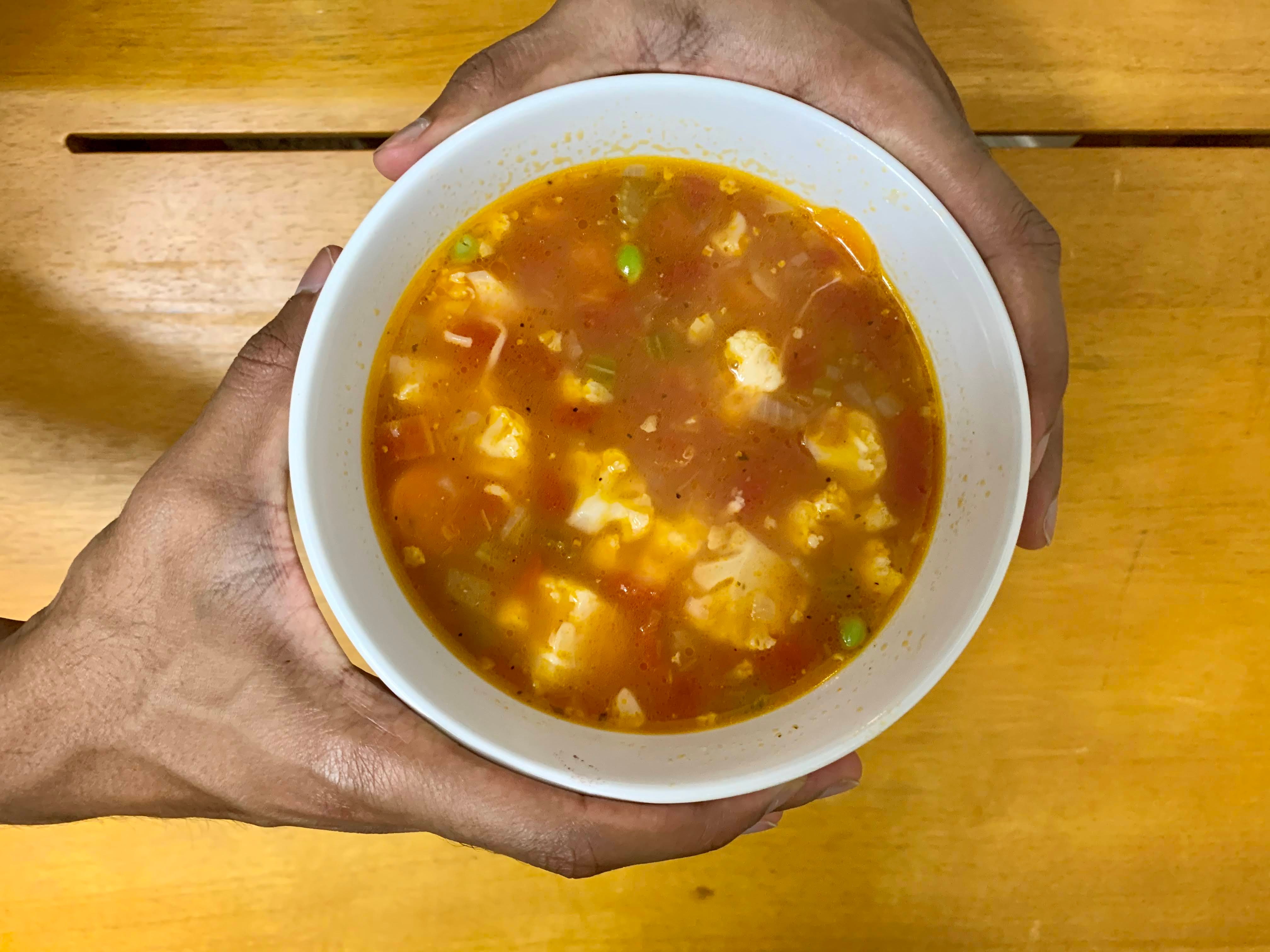 This soup name is no joke: I subsisted on this buttery pot of vegetables and broth for a good 7-8 meals. It is a smorgasbord of ingredients, with everything from cauliflower, celery and frozen peas to bacon, orzo pasta and kidney beans. This cuisine is so hearty that Napoleon would have conquered Russia if his soldiers had only tasted this soup in 1812 (take that, Russian Winter). The flavors are savory and smoky with a trace of sweetness from the boiled carrots and onions. Minestrone definitely wins the award for "most meal-preppable soup."
Good-For-You Mexican Rice Bowl
page 110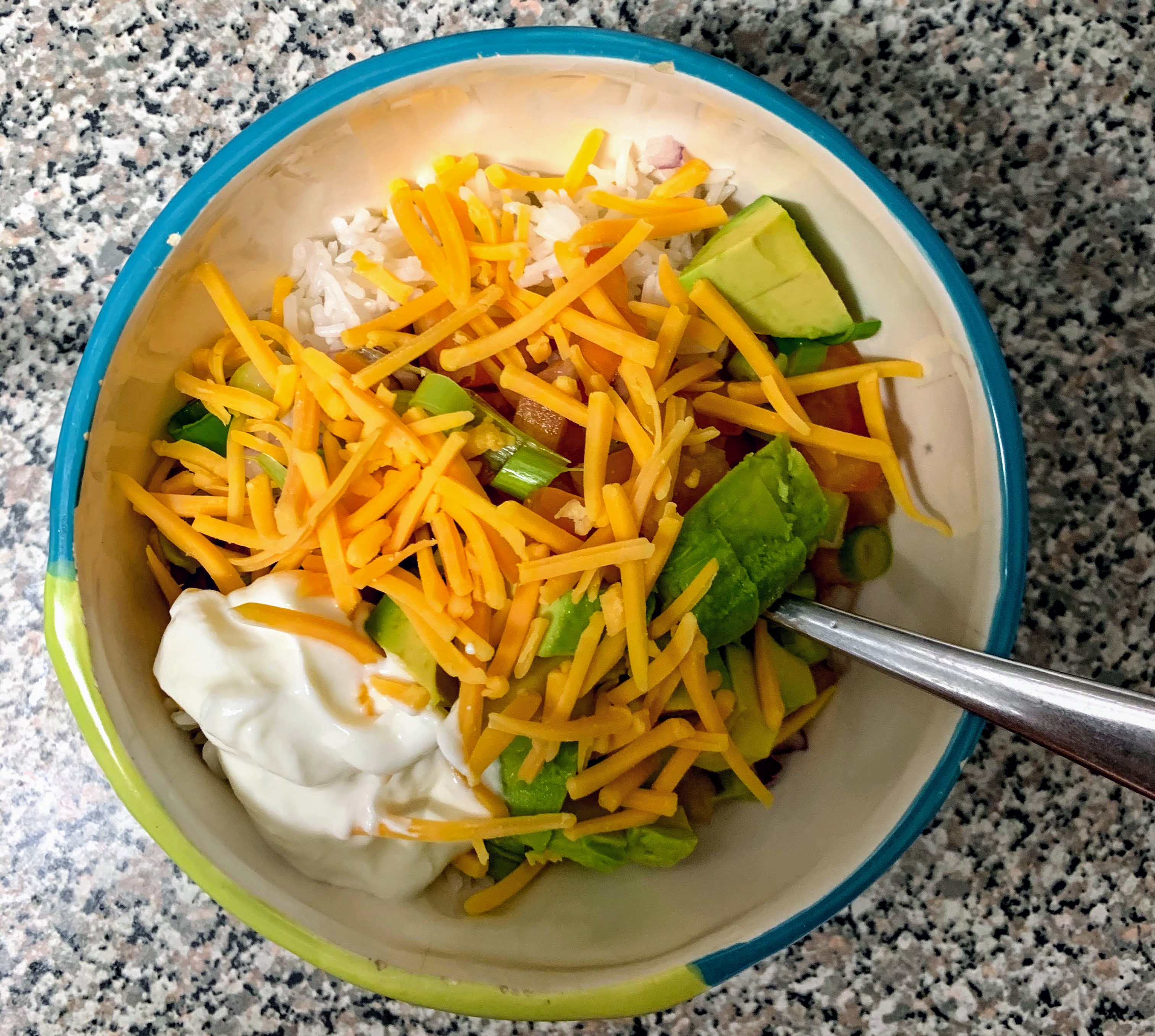 This dish invented the word "staple." Stuffed with fresh veggies, silky beans (from a Kroger brand can), pillowy rice and red Cholula hot sauce, this Mexican Rice Bowl is a winner. I used to think that fine dining consisted of doilies, complicated recipes and wearing custom aprons from Etsy. Little did I realize that nailing a few classic, easy recipes - this bowl included - was the sweet intro to adulthood. I love mixing fresh ingredients together and tossing the measuring cups out the window. Top this hunny off with some cheddar cheese and you've got yourself a fiesta on Tuesday night.
Non-Basic Avocado Toast
page 104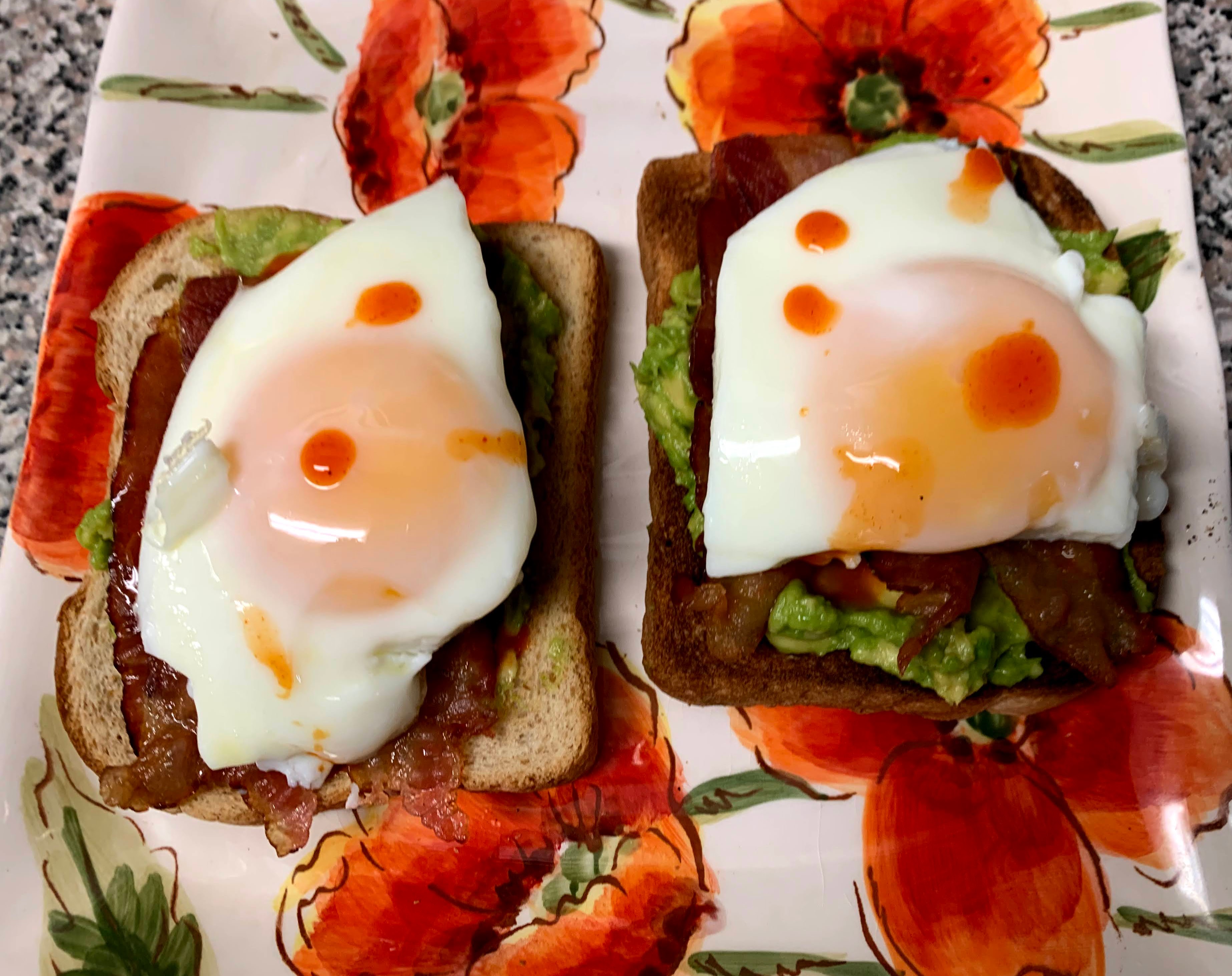 Who needs to spend $40 on limp hollandaise sauce and watered-down mimosas when you can whip this brunch up? As the title alludes to, this avocado toast recipe is anything but a bland vegetable fruit on rye bread. Stacked with creamy guacamole (basically mashed avocado and garlic powder), strips of bacon, Roma tomato slices and a gooey fried egg, this toast is a sublime way to spend Sunday morning. My toast game has been admittedly weak (just cinnamon sugar toast when my stomach was queasy), but I've been revived by hot sauce and yolk.
Badass Brown Butter Gnocchi
page 90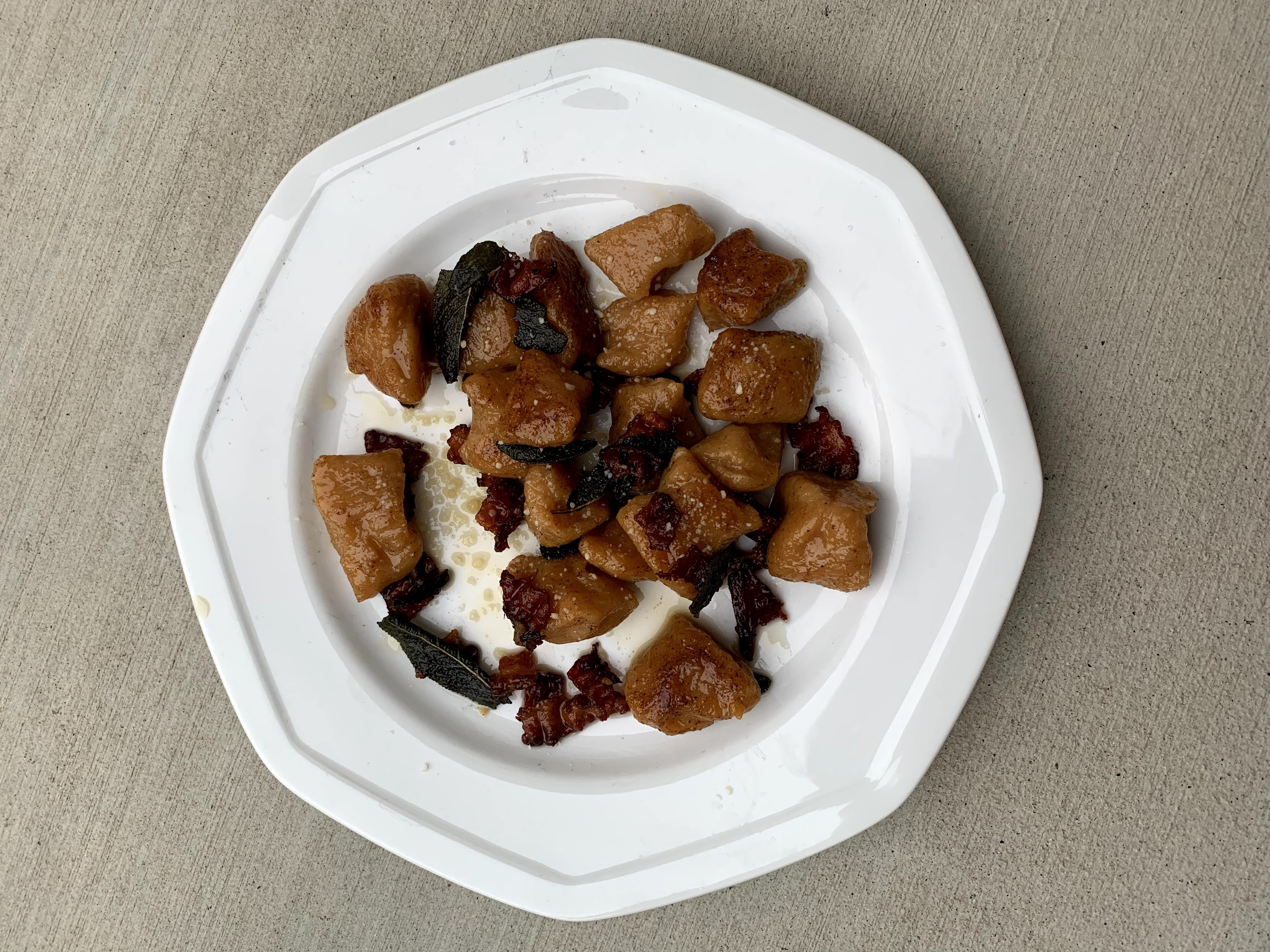 I found god in a 30-ounce can of yams and all-purpose flour that was $0.70 cents off. This recipe is laughably simple yet so rich, it'll coat your tongue in bacon residue all night. If you're tired of spending $5 on a half ass package of pre-cooked ravioli or gnocchi, this recipe is here for you. While it's messy mixing the pureed sweet potatoes, flour and salt together, the crunch you get out of butter sautéed sage is incredible. But seriously, this meal is a heavy load in your tummy, so ~10 individual pieces of gnocchi is plenty.
#WurstTip: Can't find pancetta in the grocery store? Then a package of pre-cooked or thin slab bacon is fine. The key to this delicacy is all in the sage leaves.
Penne alla Leftover Vodka
page 50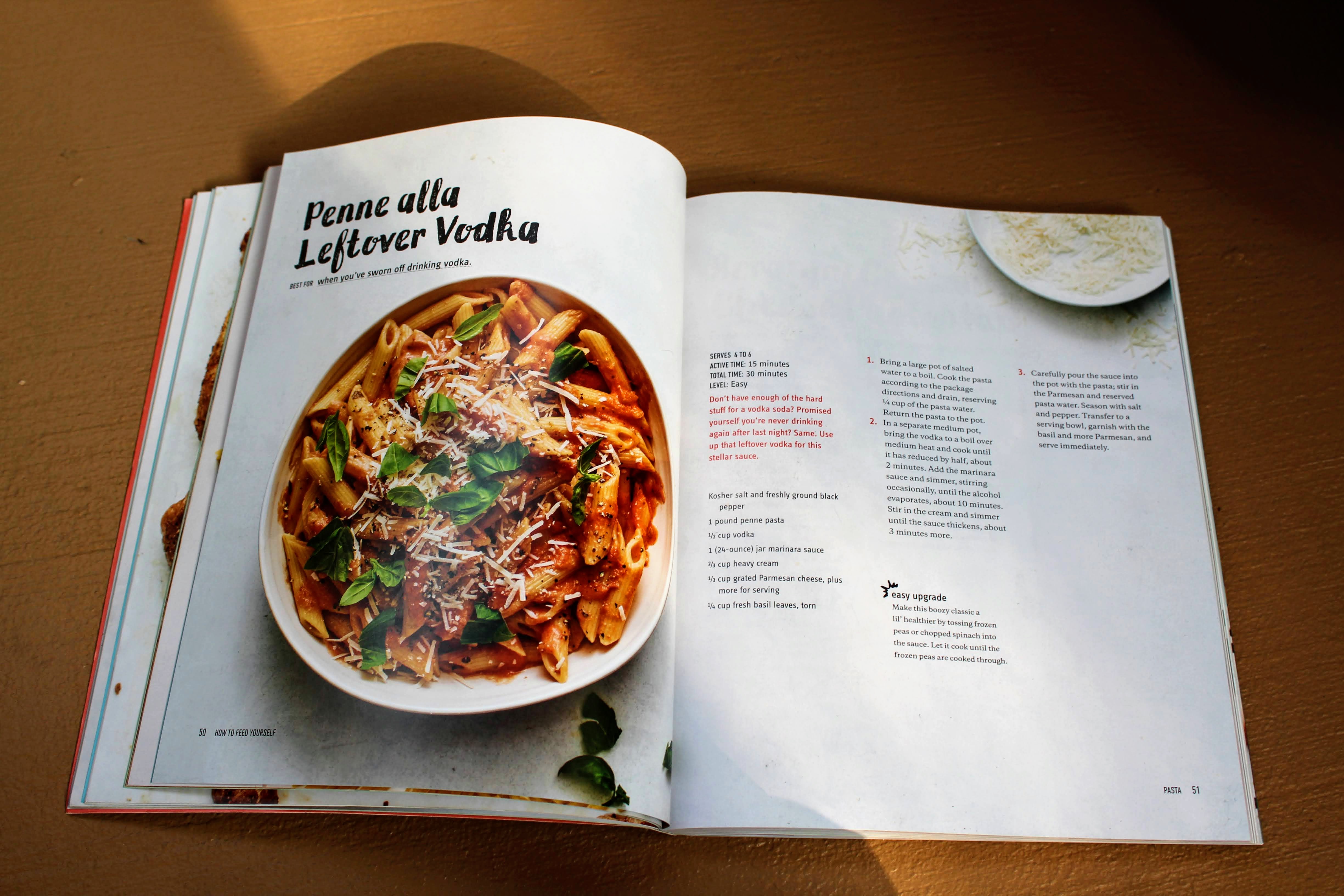 Ah, the essential carbo-loaded dish that is just "edgy" enough to be cooked by college students. Although I didn't attempt this recipe until post-grad, it could definitely be a stumble-of-shame to the kitchen after a wild night. However, the intense flavor of this pasta dish is unexpected and doesn't reek of alcohol at all (sorry to disappoint you). The heavy cream blends with the marinara sauce like a subtle oil paint and douses the penne in tomatoey blood. With a smattering of garden basil and sharp parmesan, it's a comfortable meal that won't leave behind any belly grumbles.
Note: your Little Currywurst posted an Instagram story to @spooncommunity a few months ago cooking this - her stovetop looked like the Battle of Alesia (so much sauce everywhere!), but it was magical. Check out this Google Photos album for the full story.
Honorable Mentions
Go-to Turkey Chili page 153 Chocolate Cake for Two page 182 Carbonara that Brings the Heat page 189 Roasted Zucchini Boats page 132
Please, if you feel timid about the knife sharpener on your can opener or are terrified of poaching eggs, this cookbook is for you. I left my job at Spoon University in July, but this glossy tome will continue to live in my kitchen now and all my ones in the future. Maybe I'm nostalgic about my role as Community Support Specialist and long for the 2017 Spoon HQ heyday, but this book truly helped me become a better cook. I've got a healthier relationship with food and feel empowered when I plan my meals out for the week. Covid might've quashed my usual creativity, but a celery tendril dragged me out and made me excited about creation again.
Eat happy 🥄