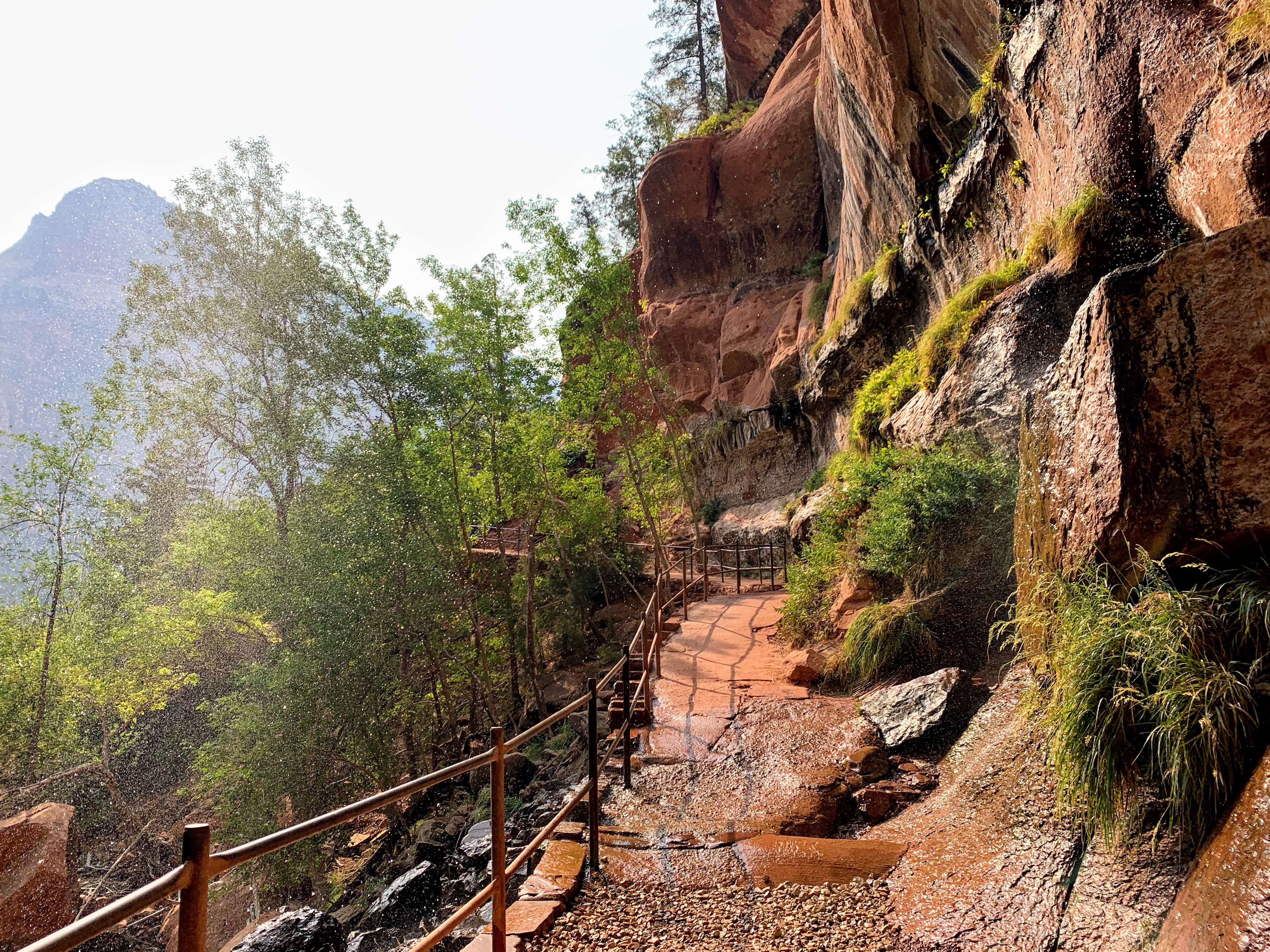 Labor Day 2020 was a watershed moment for me: it was my first company holiday since starting Honeywell in July (yay for being an accounting shill!). Before working, I didn't fully appreciate the obligatory days off my school or part-time work gave me - I would spend these free hours studying or lying around eating peanut butter and pretzels and watching Gossip Girl. Juicing time like a ripe grapefruit wasn't my goal in college, probably because everyday was a fun playdate: stumble out of bed, hack some GAAP knowledge in class, casual indie rock gig and a roasted oatmeal coffee stout at The Midnight to bookend the day.
My time looks a lot different now because I have real-world responsibilities and big dollar consequences for my actions. I'm not doing rote depreciation problems in a 1980s textbook anymore; I'm booking million dollar accruals for financial statements analyzed by investors all over the world ( Dow Jones Industrial, here we come 😎). All this rambling is to say that I value free time immensely now and consider weekends & holidays to be meccas for hobbies, creativity and gushy brain flow. The origins for Labor Day are highfalutin and vaguely jingoistic. Per the Department of Labor website:
"Labor Day…is dedicated to the social and economic achievements of American workers. It constitutes a yearly national tribute to the contributions workers have made to the strength, prosperity, and well-being of our country."
Although this definition is government shop talk, I like telling people I'm an accountant for aircraft transactions and feel like I am contributing something worthwhile to the country.
To celebrate my first holiday as a white collar worker, I went to St. George, Utah and Zion National Forest for the three day weekend. Although Arizona is dusty and I've seen scorpions and mini desert crickets outside my door, it is perfectly situated for Southwest road trips. It takes about five hours to get to Utah, plus a few more if you want to hit the Grand Canyon along the way north. I ended up camping for the first time this Labor Day weekend outside the Canyon, but that raw earth, moonlit glow experience is for another article. Once we finally arrived in St. George, my boyfriend and I nearly had a panic attack - to get into Zion, you have to reserve shuttle tickets up to two weeks in advance. And we had no idea! When we checked the website, fingers getting more frantic, there was exactly two tickets left on the online store. Credit card information in, heavy breathing fogging up the Mormon living room glass. We clicked "Process Payment," but we were straight out of luck: the tickets had just been purchased by another hiker.
Desperation gripped us like a heat stroke and we both sulked in opposite corners of the room. I couldn't believe we had driven seven hours and reserved a St. George Airbnb for a week for nothing. The Cypress trees outside the windows were gorgeous and the sunlight was piercing, but I couldn't seem to absorb any of the warming rays. I was moping on the rocking chair outside, getting all sweaty and sad under the eaves of my armpits. Nikhil was in even worse shape - he was sitting on the long brown sofa with his face turned towards the ceiling, eyes closed. His wild hair was limp on his forehead, like all excitement had dripped out of his temples. Pulling ourselves together, we began Googling furiously for loopholes and a secondhand black market for $1 shuttle tickets to Zion National Park.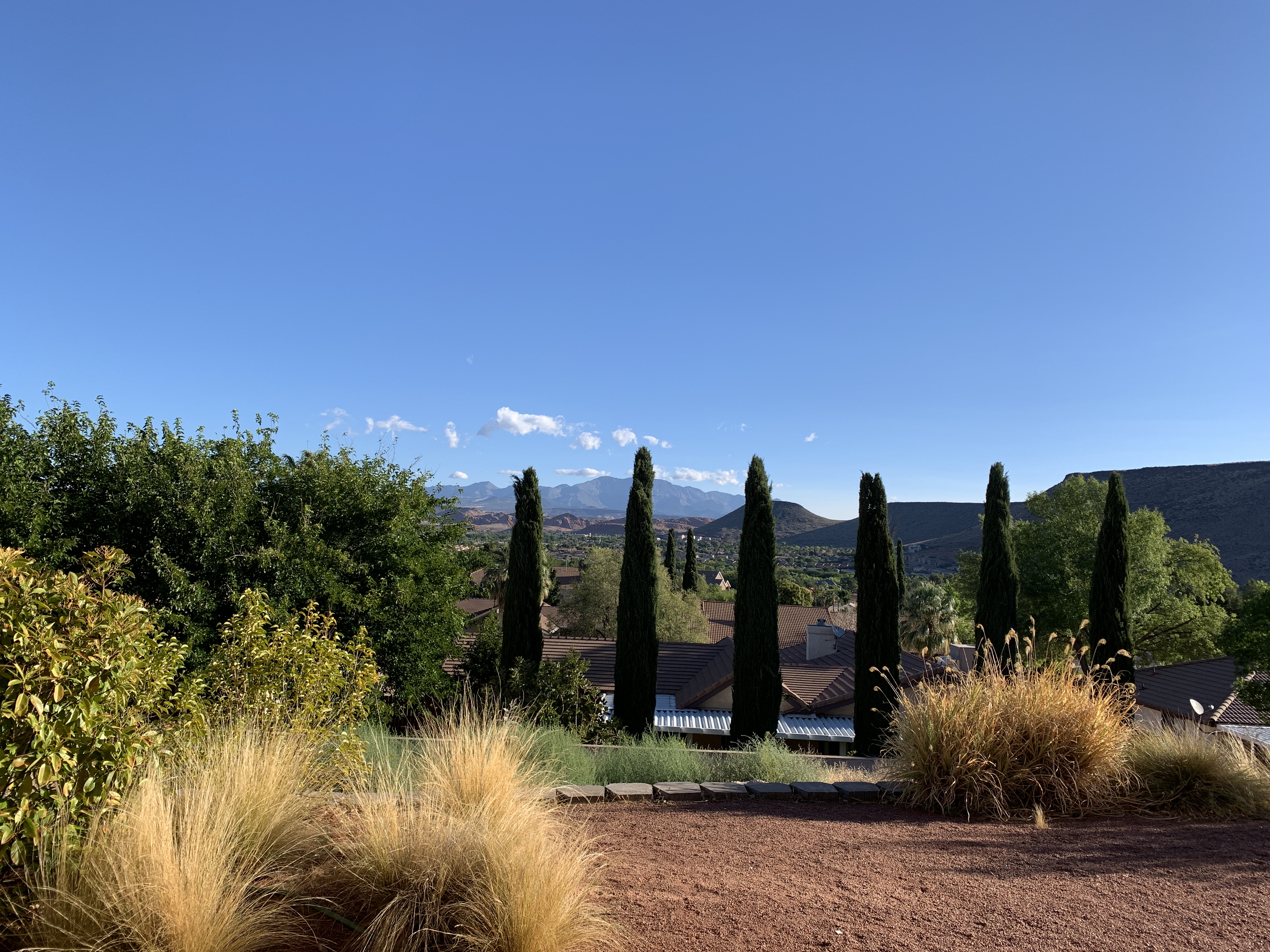 The solution became clear in minutes. We were so silly, thinking the only way to enter miles of outstretched nature was through a glorified school bus. We quickly found a company that rented bikes to Zion-goers for $35 a day, and it was located right next to the shuttle stop.
Take that, vehicle!
Our despair converted to determination, and I threw together six peanut butter & jelly sandwiches with the seriousness of a Parisian line cook. Zion was still happening - and better yet, we would be coasting through it with only our legs and open eyes to soak it all in.
We only slept for six hours, but our bodies compensated by lulling us into deep, dreamless sleep. We're not the kind of couple that can operate on limited rest, but we somehow pulled ourselves together for the sake of nature bro. On the way to Zion, we blasted a podcast about Oprah's rise to mogul status and got drunk on Tazo Zen green tea. I was driving a little too fast, nervous that parking in Springdale (the cozy town right before Zion) would be filled up by eight o' clock with overexcited hiking moms. I was worried for nothing though - we cruised through the park gates and found a spot near the Visitor's Center. For being a holiday - a delicious 12 hours where your employer doesn't control your roaming thoughts - the park wasn't as busy as I had imagined. We sprayed bug repellant, rubbed on sunscreen and put on our dirty hiking boots in relative peace.
We walked to Zion Outfitter, the outdoorsy gear and bike rent shop on the premises of Zion. It was a five minute walk from the Visitor's Center and relatively deserted for being prime hiking hours. $72 dollars later, Nikhil and I had two Zion cruiser bikes and a chocolate caramel Cliff bar to tide our grumbling bellies over. Because of my foot problems, getting "stuck" with a bike was the luckiest thing that could've happened to me. When I'm walking, I feel constricted by anticipation of pain and not being able to freely move. But when I'm biking, I can push my body to its physical limits - muscles tearing and ripping out of Walmart soffe shorts - and not be restrained by anything except the heavy wind. We got on our bikes, passed the check-in station and headed towards Pa'rus Trail.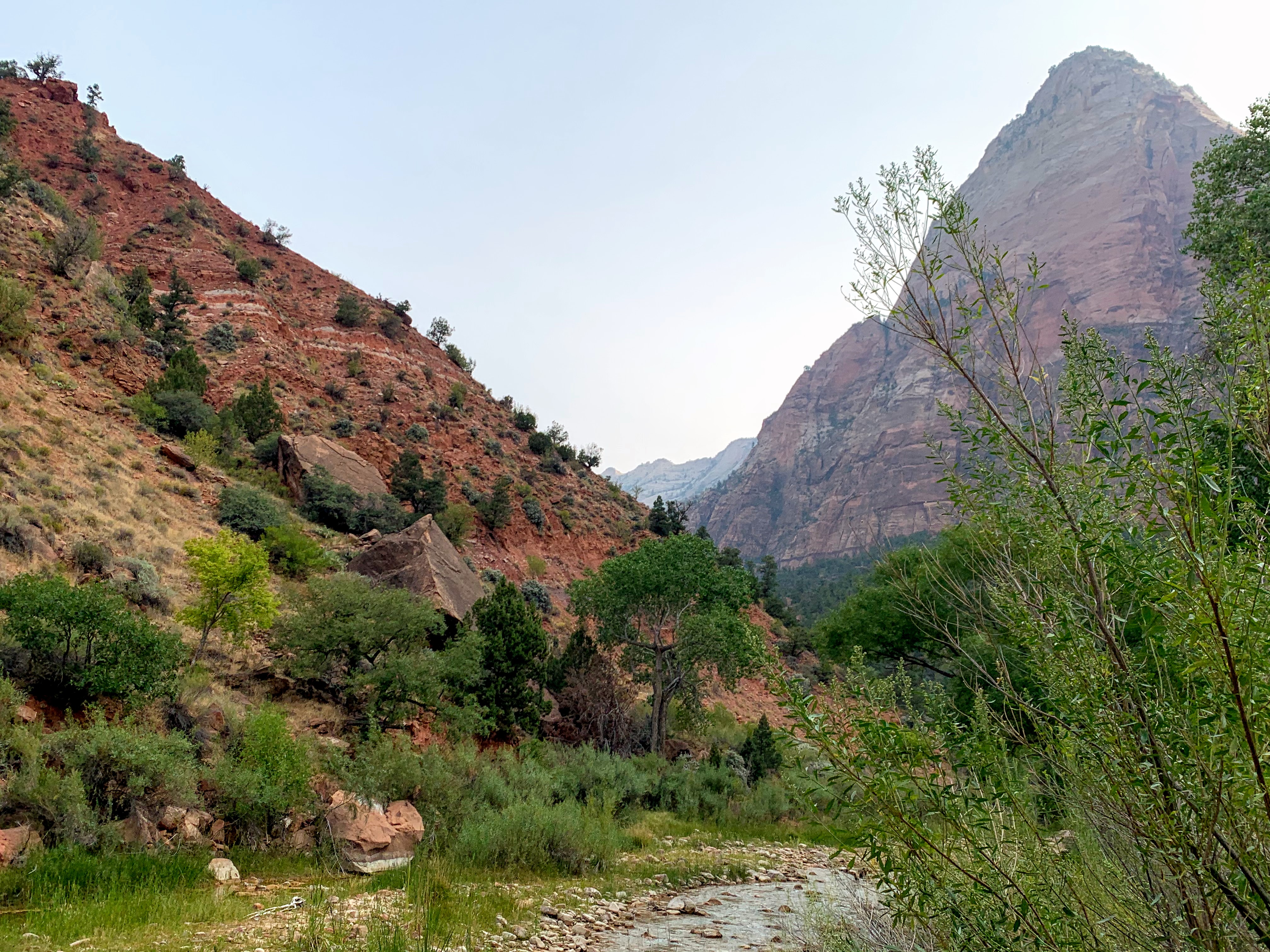 Pa'rus Trail hugs the Virgin River and eventually winds into the Canyon's heart. Bikers share the road with the shuttle and other official NPS vehicles, but the traffic is negligent compared to a regular trail or busy intersection. Biking through Zion is the kind of beautiful that leaves an impression the first time you witness it. The striated sediment - the doe who throws you a glance while she's sipping out of the Virgin River - and the green trees hugging the cliffs are unimaginable. Even though the biking incline is pretty intense, your muscle pain melts away in the face of such awesomeness. Seriously, my breath was short and I had to stop for a pb&j after the Pa'rus Trail, but it was such a small physical price to pay. All the noobs in the shuttle trundled past, but Nikhil and I were balmy faced and alert from all the wind and Zen tea.
#WurstTip: when using the main vehicle trail, all shuttles have to wait for bikers to pull over before driving past them. We had to frequently glance back to make sure a shuttle wasn't behind us, but it was nice being able to fear death by falling off a cliff rather than death by a manmade device.
After biking for a few miles, we came to the Lower and Upper Emerald Pool Trails. Zion Outfitters doesn't give anyone a bike lock, so we parked the cruisers beside a bike rack and hoped for the best. We figured nobody's trying to steal a bike from Zion because what's the point of that? Either you already have a bike or you purposely bought a shuttle ticket (or you are silly like us and forgot to buy normal people Covid tickets in advance). The lower Emerald Pool trail was mesmerizing and as shimmering as the name implies. A thin stream of water cascades from a cliff during the trail, dousing hikers in a little shower. This might not have been a great thing since there was a blooming of poisonous cyanobacteria (ay lmao), but I stuck my head under the natural faucet nonetheless. Shaking my head like a dog, I relished the cold water and looked over the railing. A doe was darting between the greenery and blue jays were flitting. Although this trail was clogged with families, the scenery was still incredible and something out of Lord of the Rings.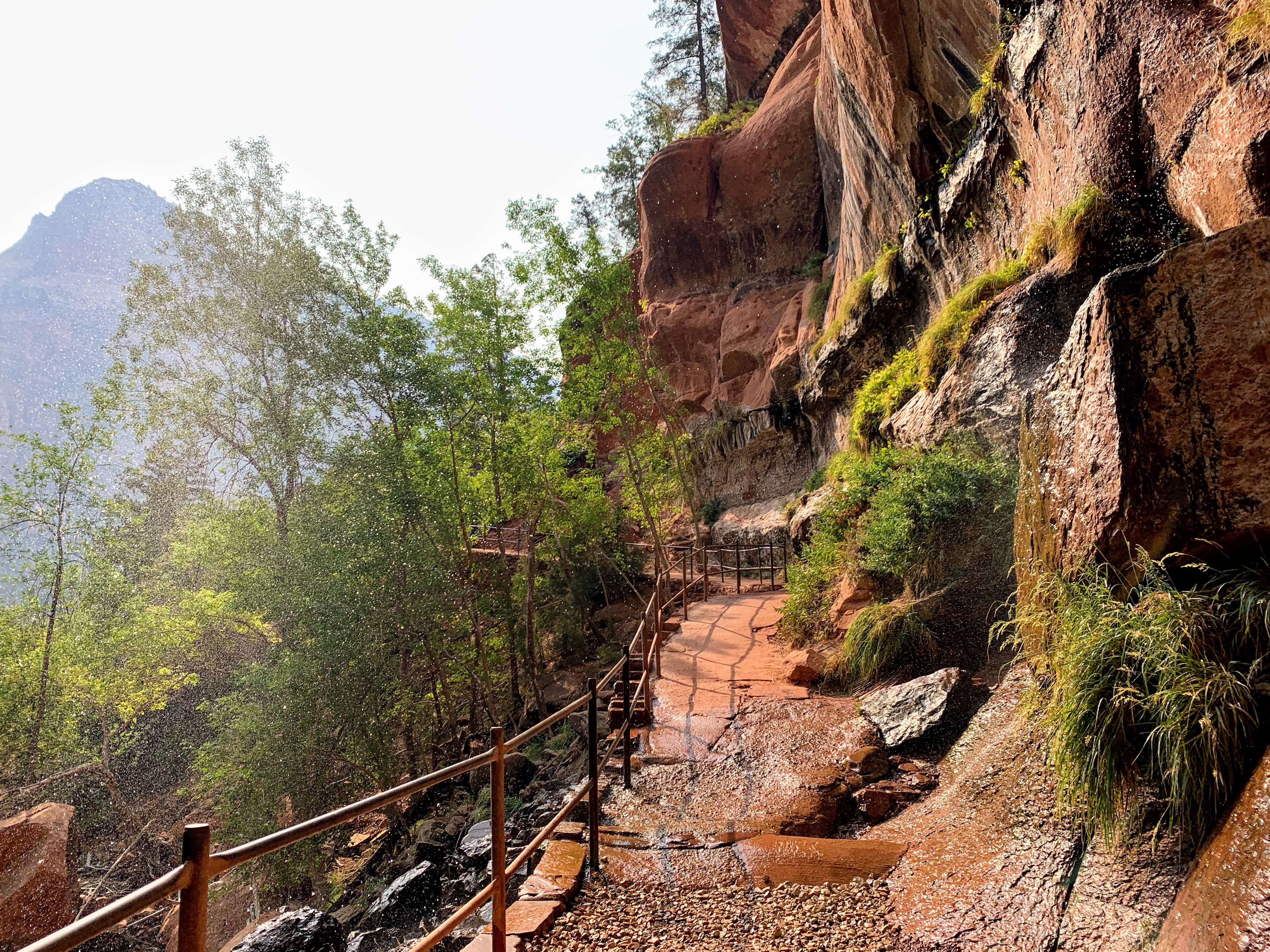 Hopping back on our bikes, we went to Zion Lodge and rested up on the grass. While biking around Zion is the best way to explore, going uphill and zigzagging through a Canyon is no small feat. Combined with the hiking, it made our muscles peckish and hungry.
The Cliff Bar was consumed. Two bananas were stuffed into hungry mouths. And a few more pb&j sandwiches became tummy toast. Lying prostrate on the grass with my head resting on Nikhil's belly, I searched the sky for all sorts of answers. I wondered what I was doing with my career. I stepped back and was amazed at what a mess my family life was and how it became that way. Being dwarfed by sound and color was humbling and also scary. I was the man in Friedrich Caspar David's painting Wanderer Above the Sea of Fog, about to be utterly consumed. These visions were induced by lack of water and a romantic mind, and they passed once we were seated on the bikes again. Instead of hitting smaller trails along the way, Nikhil and I cruised to where the Scenic Drive melts into the mother of all trails: The Narrows.
The Narrows have been praised and feared, prepared for and underestimated since humans first discovered this precious terrain. According to the National Park Service website,
"The Narrows is the narrowest section of Zion Canyon. This gorge, with walls a thousand feet tall and the river sometimes just twenty to thirty feet wide, is one of the most popular areas in Zion National Park….A hike through The Narrows requires hiking in the Virgin River. You must get your feet wet since there is no trail."
So basically, The Narrows is a serpentine water hike that is prone to flash flooding and requires a permit if you backpack overnight. Special water shoes are necessary for hiking without falling, but Nikhil and I saw hundreds of people plunging in with Nike's and New Balances, all laced up for destruction. We stood perched on rocks by the Virgin River bank, watching as hordes crossed the water, fell over, yakked and leapt from rock to rock. Hiking The Narrows is a serious commitment (and we're not the most prepared people ever), so we simply cheersed a few CBD gummies and watched as everyone else struggled. I definitely want to hike The Narrows one day - especially with an overnight camping pass - but our legs were squishy and sore from biking. To get to the trailhead, we also had to walk through a sandy trail that is half beach, half rocky crag. A deer literally ran across our path in pursuit of game, giving no fucks as the crowd swarmed around it, taking gaudy pictures. It felt like I was a kid at Busch Gardens again, mad that I couldn't ride the "Big Girl Rollercoasters" because I was too short.1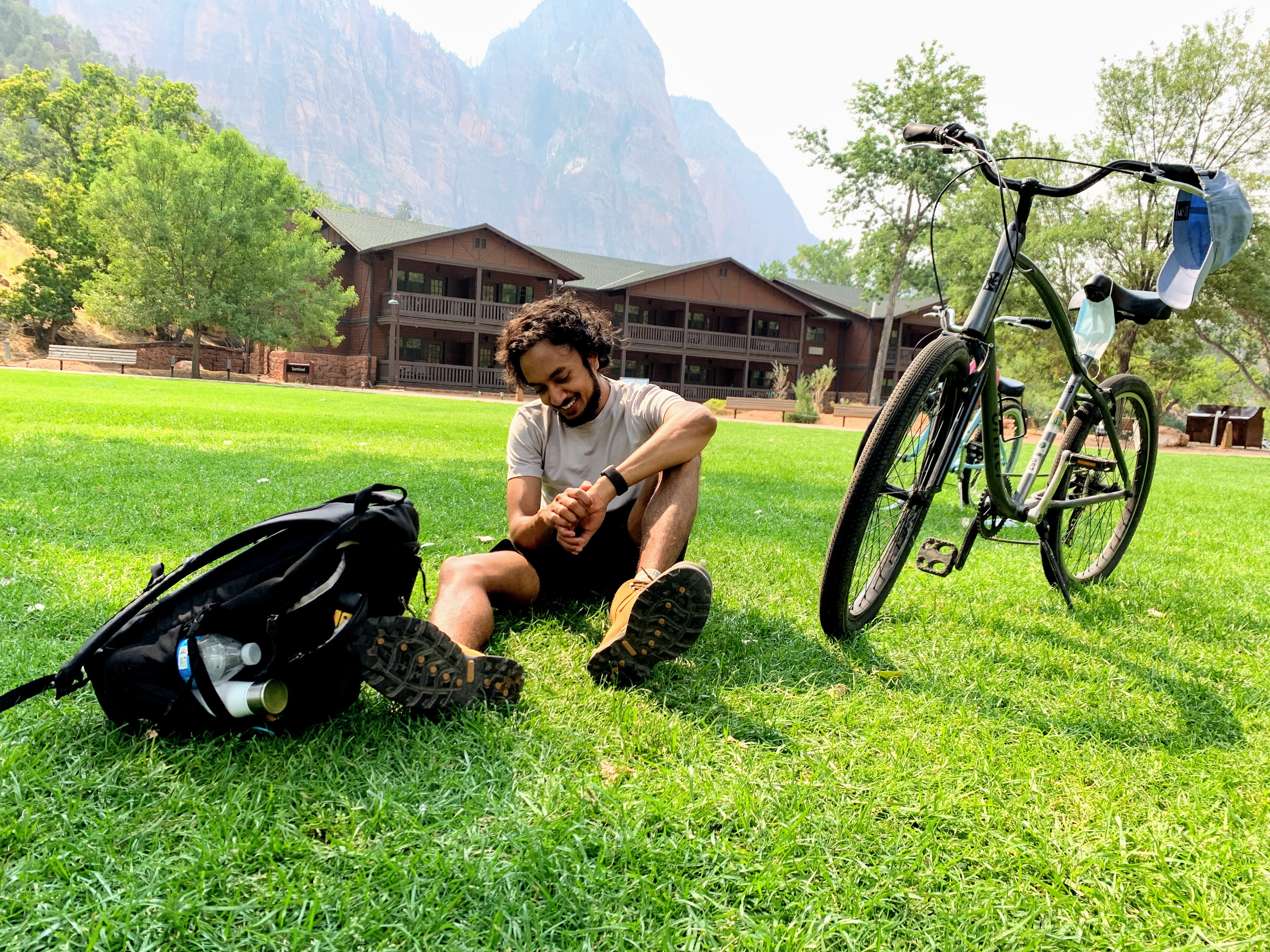 Also, there were so many girls with abs and belly button piercings that crossed my path. It was a defacto dress code that I missed the memo on - I was wearing a six year old Gator t-shirt and my belly was soft and covered in light down hair.
Back at the bus stop, I indiscriminately scrubbed some more sunscreen on my face and Nikhil took off his soaked t-shirt. The two of us had a brief emotional scuffle outside The Narrows (sometimes I take my personal roasts too far 🙁) but we made up quickly and boarded our bikes like royalty. Our shoes were stuffed with sand and weeds, but every ounce of discomfort flew away with our downshifting gears.
Biking from the Visitor's Center to The Narrows was an uphill trudge, but the way back was pure airbending. Seriously, our legs were relaxed and the speed was electrifying - Tom Misch was blasting in our airpods and we were overtaking the stupid silly buses with ease. The cliff towered over the Virgin River and our bike chains were groaning, but I can't emphasize enough how amazing this felt: freedom within natural confines, wind rushing inside your head until it's dizzy. We stopped a few times for #views and to hike baby trails (i.e. wooden staircases leading to overgrown algae pools).
The last trail we visited was Angel's Landing, the infamous path where you grip metal chains to climb to the top. The chain section was closed (I'm sure COVID loves communal chains), so we only hiked the first quarter of the path. By this point, our bodies were losing steam and the continual uphill hike was looking like a dubious choice. Hiking the entirety of Angel's Landing is an all day commitment, not something you can half ass on noodle legs and metatarsalgia feet. Laughing at the sweaty people who were actually hiking the trail, Nikhil and I snuck down to the Virgin River shores. Rocks glistened in the cyanobacteria and another couple was bathing in shallow water (did they not read the warning signs??). I was anxiously awaiting a deer but saw nothing but jackrabbits and wild grasses. Feeling like a water nymph, I threw off my sneakers and dipped my toes in the wet sand - a halcyon instance, to be sure.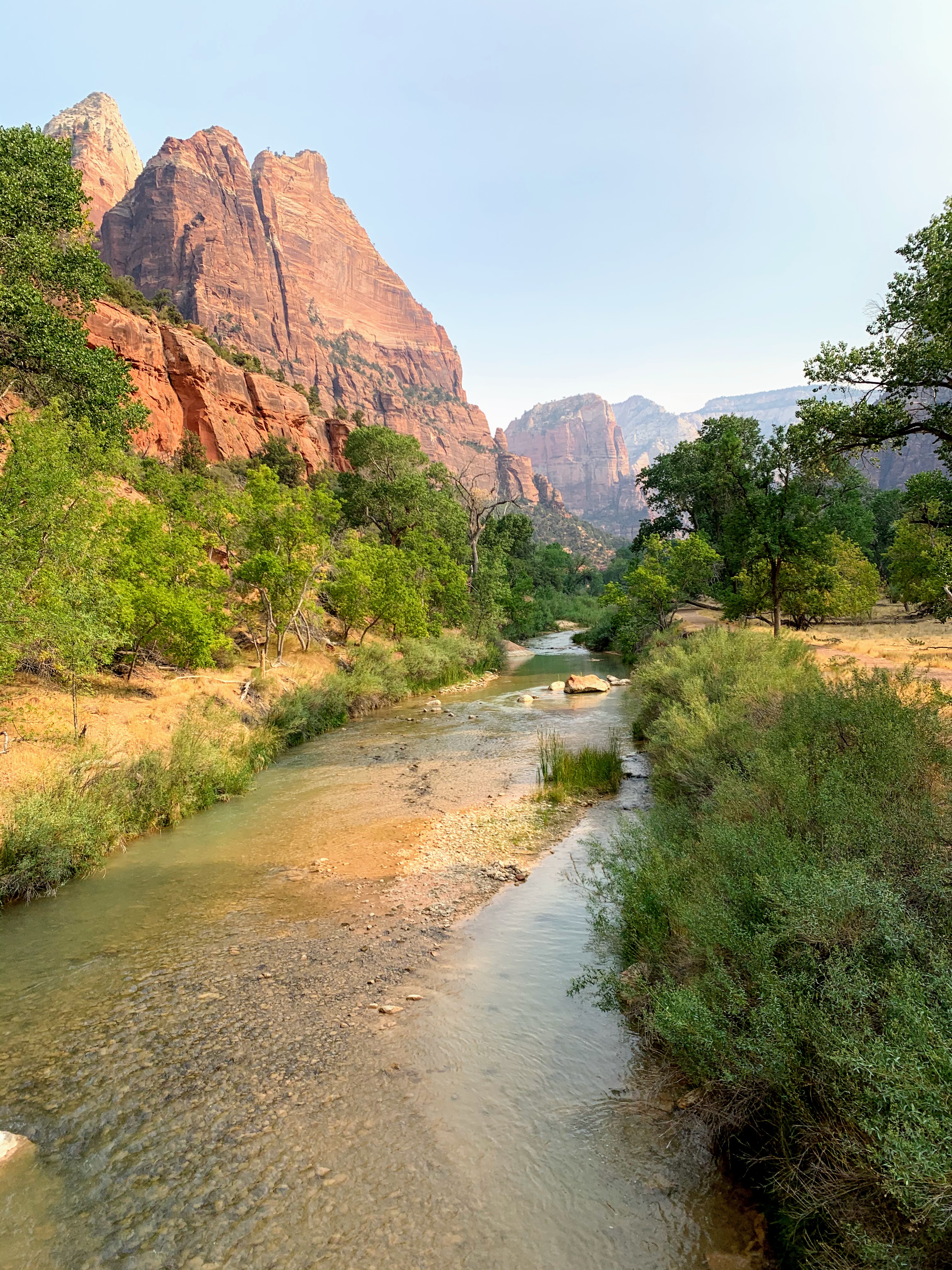 Standing in the riverbed, with nothing but nature and a bathing Indian couple around us, I was at peace. Lots of things, both emotional, intellectual and familial are always swirling around inside me, but I was able to flush them all out, at least temporarily. I might be a disappointment of a daughter and too much to handle at times, but nature doesn't discriminate against what you've done. Instead, she cools you down and makes your toes tingly.
Aha! In a strange twist of sudden energy, Nikhil and I flew back down the Pa'rus path and returned our bikes to Zion Outfitters. We sat, statue-like, on a bench outside and downed copious amounts of water and the remaining (smooshed) sandwiches. I gorged on salt & pepper Kettle chips. I inhaled a Kroger brand granola bar. My body was aching for sustenance yet so exalted from the physical struggle. We must've looked like charactors, sucking down discount food while still wearing our helmets. I didn't want to leave. I wanted to buy up every last postcard in the gift shop (I ended up getting five for $2!). When we pulled away in our car, I was sad to leave the sleepy town and the awe-inspiring Canyon.
It was only fitting that we listened to a Joe Rogan x Naval Ravikant podcast on the way home.
Naval: "It's easier to change yourself than to change the world."

Joe Rogan: "And, the best way to change the world is to change yourself."

Naval: "Live the life you want other people to live."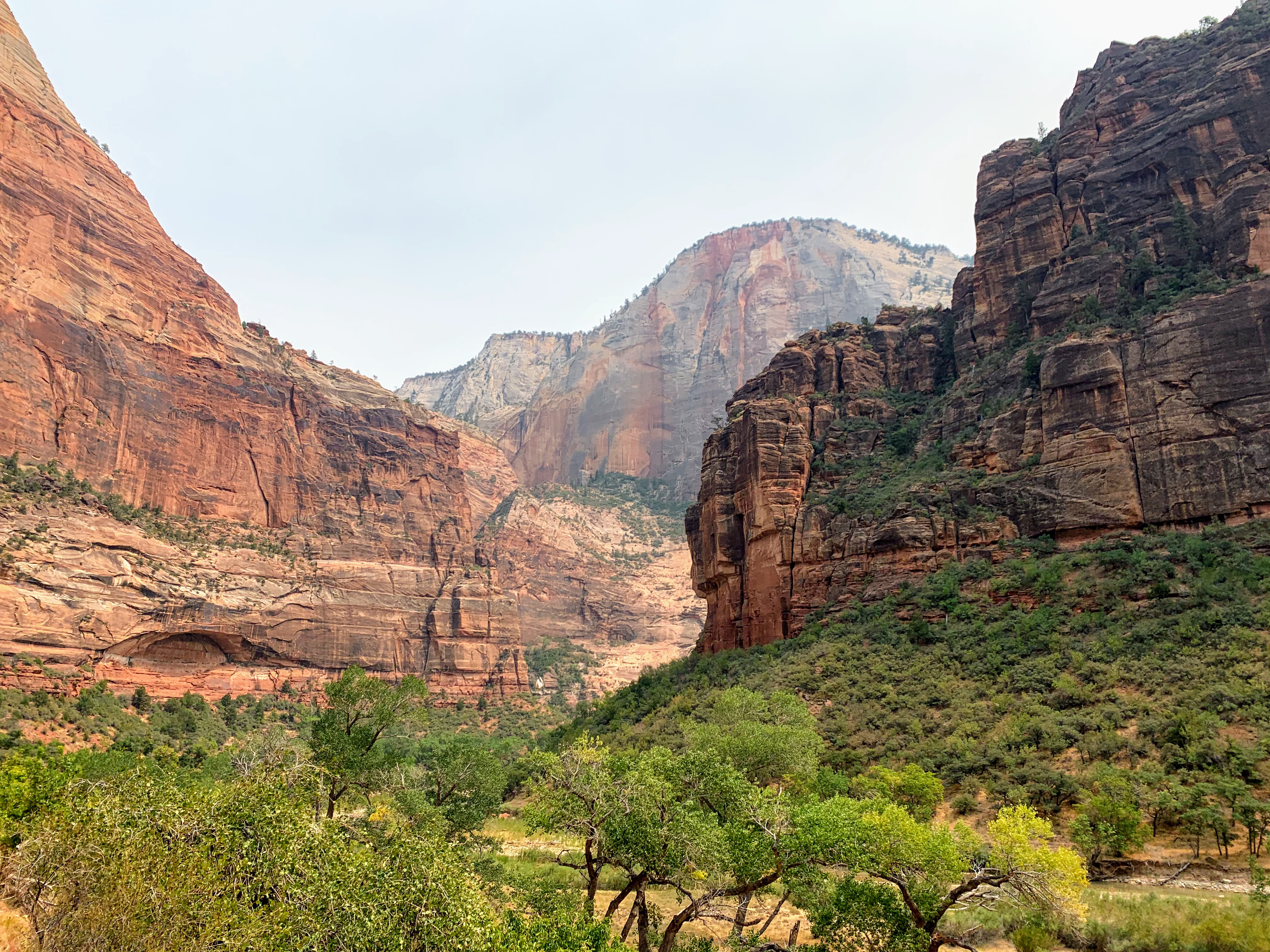 Zion2 Hacks:
Pack a ton of food. For two people, we brought six peanut butter & jelly sandwiches, two bananas, a half-empty bag of chips, six granola bars and a Cliff bar. At the end of the biking and hiking, we had three granola bars remaining. As for water, one or two bottles per person is enough. There are water refill stations along the shuttle stops, so you're always sated.

If you don't want to bike (which you totally should), make sure to reserve your shuttle tickets in advance. Half of the tickets for each day are released 15 days in advance; the others are released the night before. Plan accordingly.

For all the bikey people out there, electric bikes are a must if you also want to do an intense hike. Your legs will naturally get tired from manually biking, making Angel's Landing or The Narrows more difficult/dangerous. I didn't see any electric bikes at Zion Outfitters, but there are other rental shops in Springdale that offer them.

Bring your own helmet! The rental shops will loan you one, but you don't want foreign scalp critters in your hair.
---
Funny story, but I used to wear chunky heels to theme parks so I could ride the rollercoasters. It never worked, obviously. The ride attendants took one look at my bangs and sparkly pink heels and sent me straight to the toddlers' dragonland section. ↩︎

Random nugget of Macc knowledge: my second (or third?) cousin by marriage, Bianca, splits her time between Germany, Spain and China, where she teaches & participates in spiritual guru workshops, I think. Anyway, she has a kid, Zion, who is named after the National Park I just biked in - talk about wild German family history. ↩︎